Executive support and participation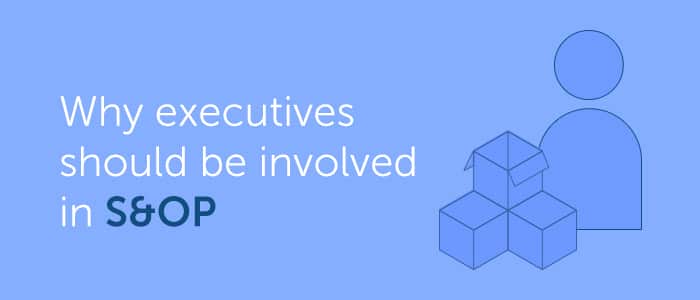 This is the second in a series of blog posts about S&OP, written by S&OP expert and Valizant CEO Ed Lewis.
Most companies have begun their S&OP journey, and many have realized better performance as a result. But the outcome is not guaranteed—too many companies stall along the way before they've realized significant performance improvement. This often can be traced to gaps in the S&OP foundation, which ultimately become barriers to success. A check of the following four S&OP vital signs can determine if any foundational elements are missing and drive the corrective action needed to close the gaps.
S&OP vital signs
Executive support and participation in the S&OP process.
Fully cross-functional S&OP scope.
Practicing constructive issue resolution.
Minimal process compromise imposed by technology.
The most important S&OP vital sign is whether the executive leader is directly involved in the process by participating and providing leadership in each executive S&OP meeting. In this context, the executive leader is the head of the organization in the position of CEO, president, managing director, general manager, or P&L owner. S&OP is successful because it aligns planning across functions in order to meet company objectives and improve performance. Compromise is often required between functional areas and, at times, functional leaders may disagree on the best approach. The executive S&OP meeting provides a forum for routine decision-making where the executive leader considers team recommendations and decides the course of action.
"Only three things happen naturally in organizations: friction, confusion, and underperformance. Everything else requires leadership." – Peter F. Drucker
When the executive leader is not committed to this decision-making forum, functional leaders will find other ways to resolve their issues and, as Peter Drucker points out, the result is friction, confusion, and underperformance. As a consequence, the S&OP process is undermined, participation can drop off, and performance improvement stalls.
A low-risk, low-cost approach to executive leadership is through an executive S&OP pilot. This can be done with one or two product families to keep it simple. The executive leader will see firsthand how executive S&OP provides improved visibility and the opportunity to resolve issues before they impact performance. A major steel company did just that with their skeptical CEO.
The CFO had used S&OP at a previous company and experienced the transformation. He became a champion for S&OP and recommended it to the CEO as a way to achieve the significant performance improvements mandated by the board of directors. The CEO agreed to the pilot and took a leadership role. Even before the pilot was completed, the CEO had approved rolling out S&OP to the entire division and commented that it should have always been done that way.
The steel company approach is not an isolated case. Many companies have gained executive leadership through a pilot. Start with your company's executive champion— someone who is trusted and respected by your CEO, shares your S&OP passion, and is willing to take a stand!
This blog series will cover each of the S&OP vital signs and provide practical suggestions for improvement. Check back regularly for updates. The next post will cover the cross-functional S&OP scope.
Topic: S&OP