Explore the whys and hows of connected planning at Hub 2018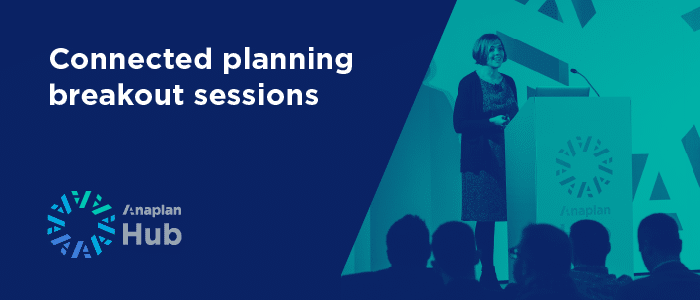 Last year at Hub, we introduced the idea of connected planning and shared our vision of how companies can connect data, people, and plans to improve their speed, agility, and visibility. This year at Anaplan Hub 2018, scheduled for March 5-7 in Las Vegas, we'll show you how that vision has matured, introduce you to real-world customers who are making the connected planning vision a reality, and help you understand the building blocks that make this new paradigm possible.
The nuts and bolts of connected planning will be explored in more than two dozen breakout sessions at Hub 2018. We have a top-tier group of expert speakers—a mix of Anaplan employees, representatives from partner organizations, and customers-presenting breakouts in the track. Session content will range from high-level connected planning concepts for organizations that are just getting started all the way to deep-dive sessions for people who want to understand how these concepts will apply to their specific business needs.
Although the range of sessions within the connected planning track is broad, the sessions can be grouped into two general categories: why implement connected planning, featuring sessions geared mostly for businesspeople, and how to make connected planning successful, with content created for technical teams. I've gathered some sessions to look forward to in each category.
Why implement connected planning?
The best way to understand the benefits of connected planning is to hear from companies that have implemented it and the partners that have helped them get there. That's why we invited a dozen customers and partners to share their compelling journeys. Businesspeople who want to understand how connected planning can drive value should attend these sessions:
One highly anticipated breakout will feature Demian Shinzato Perrin, IS Manager, Global Planning and Performance Systems at British consumer packaged goods (CPG) company Reckitt Benckiser, explaining how his company connected its finance and operations groups.
Andrew Dinwiddie, Head of Zero-Based Budgeting at RSA Group, will describe how a 300-year-old insurance company with more than 20,000 employees connected its finance and operations-and, in the process, cut a nine-month planning process in half.
Ruben Stappers, CFO of online fashion brand Zalora, will travel from Singapore to show how he has used Anaplan to build a performance culture that spans supply chain, workforce planning, information technology, marketing, and associated functions.
Representatives of our partners Deloitte, OneCloud, and Plan Rocket Consulting will also be on hand to co-present sessions with their customers. In these breakout sessions, you'll hear how skilled partners help customers reap the benefits of connected planning more quickly and, ultimately, how these partners help drive digital transformation across entire companies. Check the connected planning breakout agenda for details on these sessions.
If you need to step back and understand the concepts behind connected planning first, you may want to attend my session called "Five Journeys in Connected Planning." If you know the concepts but aren't certain where to start on your journey, several of my colleagues will be presenting sessions that chart the connected planning journey based on specific launching points and industries, including finance (led by Kevin Booth), sales (led by Ashwin Iyer), and manufacturing and consumer packaged goods (led by Ara Gopal).
How to make connected planning successful
If the why of connected planning is clear to you, then you're ready to explore the how-the technical foundations that make connected planning possible. Led by Anaplan employees, technical breakout sessions on the Hub 2018 schedule include:
And there's more
We have three other sessions in the connected planning track that will interest all Anaplan customers and users:
Product road map. Subrata Chakrabarti, Anaplan's Vice President of Product Marketing, will share the Anaplan product road map and reveal where the technology is headed, in both the short and long term. You'll also learn how the platform has evolved to address multiple use cases as customer needs have grown.
The Anaplan Way. If you're interested in learning about the Anaplan Way, Traci Gearhart will present a session just for you. She'll share best practices, techniques, and processes for successfully implementing Anaplan projects and increasing user adoption. The session will include information on user story creation, sprint planning, and change management.
Center of Excellence. And customers preparing to launch an Anaplan Center of Excellence—a must-have for successful connected planning—won't want to miss a fireside chat with three companies that have maximized their investment in the Anaplan platform by establishing one.
We have content for people at every stage of the connected planning journey at Anaplan Hub 2018. Registration is now open, and early-bird pricing has been extended to January 31. And when you register four attendees, your fifth team member attends for free.
| | | |
| --- | --- | --- |
| | Anaplan Hub 2018 | |