Facilitating cohort analysis in a subscription economy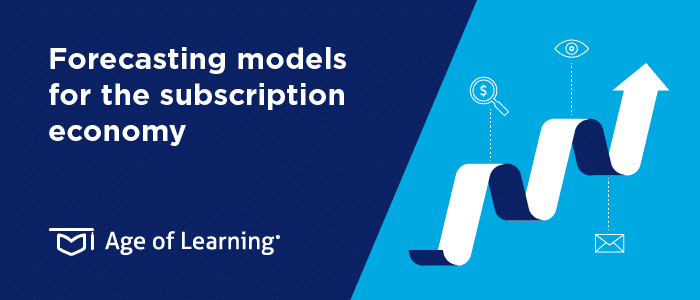 The subscription-based business model is far from new; newspaper and magazine publishers have been using it for decades. But the subscription economy is spreading to other industries fast, and it's not just software businesses and entertainment channels that are driving its growth. For example, during the 2017 Major League Baseball season, the St. Louis Cardinals sold a subscription ticket that let fans attend as many Cardinals home games as they wanted for a monthly fee of $29.99.
A subscription model is what Los Angeles–based early-learning technology leader Age of Learning chose for its flagship product, ABCMouse. If you have a young family, you've probably heard of this digital resource for children between the ages of 2 and 8—it provides learning activities and lessons for reading, language, math, science, health, social studies, art, and music. ABCMouse is regularly ranked as the leading children's learning app for iPad®, iPhone®, and Android™. To date, children have completed more than two billion learning activities with ABCMouse.
Cohort analysis is the key to forecast accuracy
When it came to revenue planning and forecasting, Age of Learning quickly learned some lessons of its own.For starters, reliable forecasting depends on being able to identify cohorts of subscribers with similar characteristics and behaviors. These characteristics can be used to predict a customer's persistency (another word for retention rate) months and even years into the future.
But the company also learned that extrapolating the retention rate of different customer cohorts—such as people who signed up for ABCMouse in various months across multiple time periods—soon generated large volumes of data. And when business leaders asked for forecasts to be subdivided by device type and acquisition channel, Thuy Kim, VP of Business Intelligence at Age of Learning, quickly realized that using spreadsheets would no longer be practical.
Incorporating the additional dimensionality would mean that updating and refreshing the model—a task that was already onerous—would become what Thuy described as "monumental." Maintaining the accuracy of the forecasts would be increasingly difficult, particularly as the business expanded into Asia.
Greater dimensionality and dramatically shorter cycle times with Anaplan
That's when Thuy and her team set out to find a platform that would allow them to maintain their high level of accuracy while simplifying the forecast creation process. They didn't embark on this search alone. Thuy advocates using external consultants for enterprise software implementations—people who bring specific expertise and provide additional resources to minimize implementation timelines. "Consultants help you be successful," she said.
Working alongside consultants from Anaplan partner Impetus Consulting Group, Thuy and her team selected the Anaplan platform and quickly developed planning models that incorporated the additional dimensionality that business leaders sought. They also added two years to their forecasting horizon—and did so while reducing the forecasting cycle time from days down to minutes. (Click to tweet) That freed up considerable time that was reinvested in improving the accuracy of less predictable parts of their forecasts, such as new customer acquisitions and the reactivation of lapsed subscriptions.
Age of Learning is not alone. Improving the accuracy of subscription-based revenue models—models that are complicated, difficult to update, and cumbersome to maintain—is a challenge that many companies face as they transition to a totally new way of doing business.
Watch the video, "Cohort analysis in the subscription economy," to hear Thuy and James Straton, Principal Consultant with Impetus Consulting Group, explain how they used the Anaplan platform to deliver sophisticated revenue forecasting that will scale as Age of Learning continues to grow.