How finance can deliver integrated business planning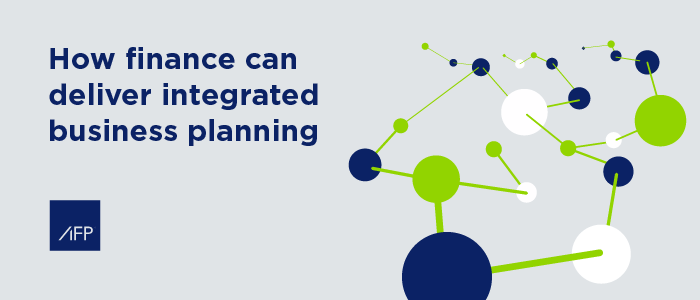 When I look at a Cubist painting by Pablo Picasso, which has several views of an object or figure on one canvas, I sometimes get confused as to where things begin and end. The secret is to understand that they're all just different perspectives on the same thing. The same can be said about sales and operations planning, (S&OP), integrated financial planning (IFP), and integrated business planning (IBP): They're simply three different terms describing enterprise planning from slightly different perspectives.
S&OP looks at business planning from a demand and supply viewpoint and works toward financial considerations. IFP focuses on financial planning and budgeting, and the backward integration of the financial outputs of sales and workforce planning. And IBP—the subject of a new report from the Association for Finance Professionals (AFP)—is a single holistic plan that seamlessly connects strategic plans with sales plans, operational plans, and financial plans while balancing practical constraints about the availability of resources and funding with the business's financial objectives.
Tear down planning silos, make connections
But is any one of these planning methodologies more important than others?
No—because when it comes to planning, the important thing is the connections, not the method. Research on next-generation business planning undertaken by analyst firm Ventana found a strong correlation between the degree to which various plans are directly linked and the quality of the planning process. Their findings showed 66 percent of companies that directly link individual plans say their planning process works well or very well, compared with 25 percent for companies whose plans have little or no connection to one another.
At a time when planning processes need to be smoother and more coordinated in order to cope with increasing erratic demand, volatile input costs, and disruptive competition, these numbers present a powerful argument for connected planning—regardless of what you call it.
Finance-driven connected planning delivers value
In spite of that proven value, connected planning is far from the norm. Harvard Business Review found that spreadsheets still dominate planning processes in most business domains, even in large enterprises; in fact, 90 percent of organizations use spreadsheets and only 22 percent are satisfied with this way of planning. (Click to tweet.) Clearly there is a need for a collaborative planning platform that can handle large amounts of financial and non-financial data while successfully addressing the diverse needs of both finance department users and planners in other departments.
But while lack of technology may hold back collaborative planning, a company's organization can get in the way, too. Silo-based planning can be so ingrained in corporate culture that it can be difficult to overcome, and this challenge is made worse because in most organizations, no one person has overarching responsibility for planning processes. So someone has to make those first connections and paint a vision for how connected planning will benefit the business. But who is best placed to do this?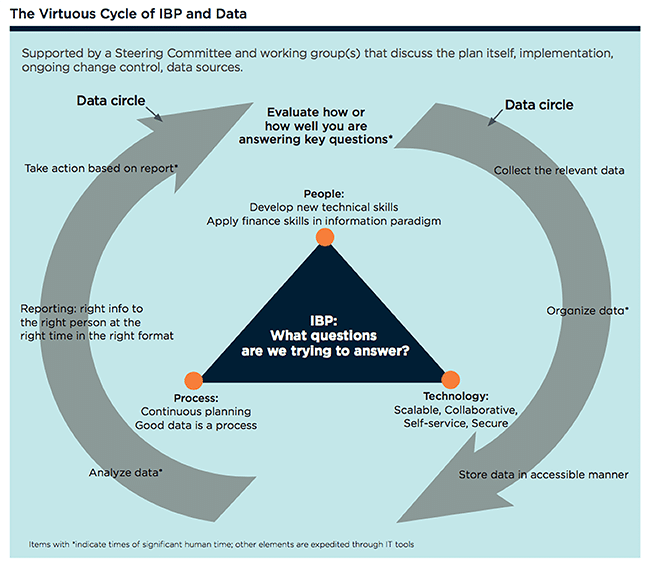 The AFP's latest guide describes a virtuous cycle of integrated business planning and data that incorporates people, technology, and process needs.
CFOs should lead the way to IBP
Ultimately, all types of planning done in business (S&OP, IFP, or IBP) result in revenues or expenses on a profit and loss (P&L) report in the office of finance. They each simply provide different perspectives of the same reality—much like a Cubist painting—with P&L line items as their common ground.
Because of this commonality, my view is that CFOs are well placed to set their organizations on the path toward IBP. They can start with simple steps, such as hooking various types of planning into their core FP&A processes, sketching out a vision of how connected planning benefits the business, and building alliances with business leaders (such as the Chief Operating Officer and Chief Revenue Officer) who can provide additional executive support.
With executive buy-in from across the business, finance can then identify the data it needs from each department, determine how to integrate that data, and find the easiest places to get alignment and collaboration—the "low-hanging fruit" across the business that are the baby steps toward IBP.
If you are a finance leader who wants to craft a vision for IBP in your organization, read AFP's latest guide, "Building an integrated business planning capability," to learn tactical steps toward achieving this large initiative, such as the best ways to approach IBP and the simple changes you can put in place today.
| | | |
| --- | --- | --- |
| | Building an integrated business planning capability | |
Keyword: Integrated Business Planning