Forrester Wave™ predicts the future of EPM is in the cloud—don't get left behind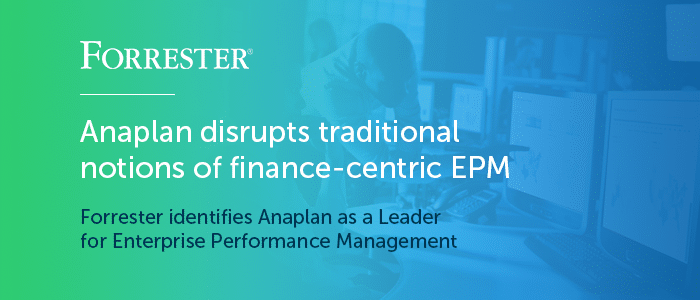 You get it. We get it. Forrester Research gets it, too: Enterprise performance management (EPM) should live, and will live, in the cloud.
We know Forrester gets it because the recent report, The Forrester Wave™: Enterprise Performance Management, Q4 2016, only examines vendors that make their products available via SaaS or cloud delivery. "We excluded vendors with exclusively licensed, on-premises deployment models from the evaluation," writes Paul D. Hamerman, Vice President and Principal Analyst at Forrester Research. The report also predicts that SaaS will replace on-premises software as the primary delivery model in five years—even though 8 in 10 EPM users today, in Forrester's estimation, still rely on on-premises software. And we agree, EPM in the cloud is a disruptive force in business and you can't be left behind.
With this in mind, we're thrilled to announce that Forrester has named Anaplan a Leader in enterprise performance management. We have the highest score in the strategy category, and have earned the highest score of all vendors in the SaaS and cloud criteria. The report also cites Anaplan's "well-articulated strategy to embrace innovative technology."
We encourage you to download and read the Forrester report to learn about:
The current EPM landscape. The report evaluates 10 vendors in depth and briefly mentions eight others that didn't make the cut. Each vendor is evaluated on the same 36 criteria.
Modern EPM and the future of EPM. The report explains what technologies and capabilities comprise EPM. It also explores how EPM historically was positioned to serve people in finance, but today is used in many other corporate functions.
Anaplan and its customers believe that the last point—the expanding uses cases for EPM across the business—is particularly important in understanding what makes us different. "…Anaplan disrupts traditional notions of finance-centric EPM," the report states. That's precisely why Anaplan is a planning and performance management platform for smart businesses, not just another point solution for a job. Forrester's analysis indicates that we have hit that mark. Hamerman writes, "Anaplan is best for companies with relatively complex, data-intensive planning and modeling use cases in finance, sales, marketing, operations, and HR across a variety of industries."
Get your complete copy of The Forrester Wave™: Enterprise Performance Management, Q4 2016 today.