Four observations on the Forrester Wave™ EPM report, from Anaplan's chief customer officer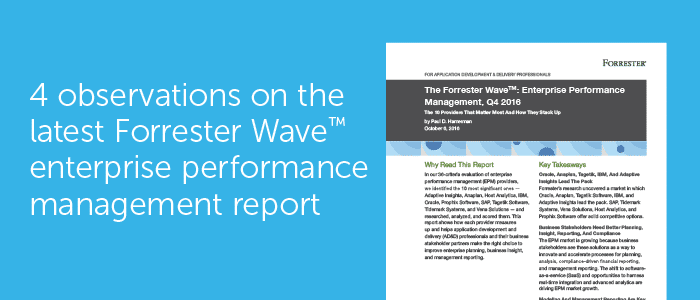 Analyst firm Forrester Research recently published "The Forrester Wave™: Enterprise Performance Management, Q4 2016," its evaluation of EPM providers and the 10 companies (including Anaplan, which was named a Leader) that are the most significant players in the space. The report, according to its author Paul D. Hamerman, shows how each provider measures up and "helps application development and delivery (AD&D) professionals and their business stakeholder partners make the right choice to improve enterprise planning, business insight, and management reporting." It's a serious piece of work, and I recommend that you download and read it. The report can be analyzed from many angles, but as Anaplan's chief customer officer, I looked at it with our customers in mind. I have four observations to share.
1. EPM users want to see into the future.
Forrester organizes EPM capabilities into three time dimensions: the past (documenting what has happened), the present (understanding what's going on now), and the future (planning, budgeting, and forecasting). No question that's so, but our customers tell me that the future dimension is most important of the three. Business is so volatile, things are moving so quickly, and innovation is happening at such a relentless place that the past and the present are almost irrelevant to some companies. (That's why zero-based budgeting is coming back into vogue.) What they did 10 years ago—or even last year—has little bearing on, or relevance to, what they are going to do in the future.
That said, I think the greatest value comes from combining all three time dimensions on a single platform, as we do with Anaplan. That's hard for a lot of companies to do today because they've invested in a Business Intelligence (BI) tool to analyze the past, a ledger system and ERP to tell them the present, and a planning solution to see into the future. Companies want to combine all three time dimensions—peer into actuals from the past, analyze what's going on right now, and predict what will happen in the future—on one single platform. That's what Anaplan does, and does so across the entire business, so that every single function can analyze the past, present, and future. (Don't take my word for it; hear it from our customers.) I call this a "single spine of decision-making" across the business.
2. Deployment models remain a challenge.
Forrester estimates that 80 percent of EPM is done on-premises today, and that SaaS-based offerings will replace most of those EPM systems within the next five years. My gut reaction when I read that is that five years is aggressive for all systems to be changed to SaaS, especially in the Fortune 2000 companies we work with, but a lot of systems certainly will be replaced with SaaS offerings.
When you're talking about rolling out an entirely new EPM solution in a different model (cloud vs. on-premises) at the largest companies, that means replacing some huge systems and processes—the Oracles, the SAPs, the Hyperions, the IBMs of the world—and I can tell you from experience that that's still no mean feat. We've all heard of two- and three-year on-premises implementation times (or longer), and the implementation failed anyway. Luckily, systems like Anaplan can be implemented in a fraction of the time it typically takes to get an on-premises solution up and running.
3. All innovation is not created equal.
On top of the move to SaaS, Forrester says EPM innovation is evolving along four vectors: user experience simplicity, social collaboration, advanced analytics, and integration with other business applications. Maybe so, but from our customers' points of view, these four are not equal in importance. I'd order them as follows:
Integration is at the top of our customers' lists. Right now, the EPM universe is in a fragmentation stage, with customers picking best-of-breed applications in a variety of categories: Workday for ERP, Salesforce for CRM, Anaplan for planning, and Tableau for analysis and BI, to name a few. Customers have decided that, at present, they don't want one platform to do all of those things, and for that reason they want their applications to talk to each other. Since these applications are all sources of truth, the ability to integrate them is important.
If I had to rank the other vectors of innovation, I'd say user experience simplicity is second in importance. Our customers are going through radical process re-engineering because, as I mentioned earlier, their businesses are changing so quickly. Their employees aren't using the same applications year in and year out. As processes change, the tools themselves change—but if your users can't figure out a new tool, and it doesn't make their daily lives easier, they will reject it and the project will fail. So the user experience and simplicity is really key to success.
I'd put advanced analytics third, because customers can only employ advanced analytics after they get the basics done. They need to be able to model the business and use that model for decision-making across their organizations first. Once they have a platform that spans their business, they can layer advanced analytics on top of it. And as for social collaboration, I'd rank it last. For one thing, that term means different things to different people. Customers don't ask about it very frequently. They already have a messaging system, and they want to get the basics of EPM right before they even consider adding social collaboration.
4. Flexible modeling is king.
One of Forrester's key takeaways is this: "With SaaS becoming more prevalent in EPM, differentiation is evident in the robustness and flexibility of modeling as well as management reporting capabilities." I don't disagree, but for our customers, modeling is much more important than reporting. Customers tell me all the time that Anaplan can model like nobody else on the planet, and that's a key piece of why they chose us for EPM (hear it from them). You could strongly argue that, once you have modeled the business, reporting on it is actually pretty easy. In fact, many our customers spit data out of Anaplan and into a management reporting tool or consolidation tools. This goes back to the integration question.
Those are some of my reactions to The Forrester Wave™: Enterprise Performance Management, Q4 2016. Do you agree, disagree, or want to debate? Please download the report and share your reactions in the comments.