Gartner Supply Chain Executive Conference: What you don't want to miss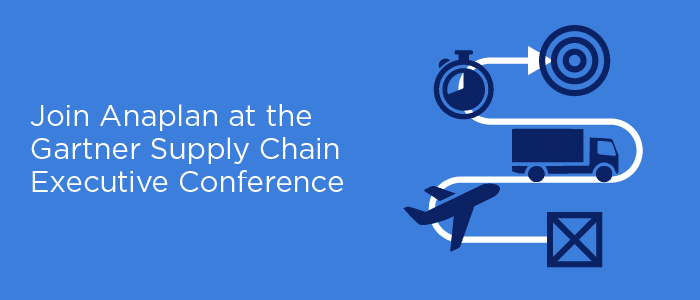 April showers are here, and we can't wait for the May flowers. Although we like flowers, we're also looking forward to another event happening in May: Gartner Supply Chain Executive Conference.
The conference, which takes place in Phoenix, AZ, on May 23–25, is the world's most important gathering of supply chain leaders. According to Gartner Supply Chain Conference Chair Mike Griswold, disruption "has become the new normal for folks who work in the supply chain."* He went on to describe the top three challenges faced by supply chain leaders:
Business strategy: Aligning the supply chain strategy with the business strategy
Customer service: Supply chains are shifting away from their traditional focus on "moving stuff" to orchestrating customer outcomes
Process: It's things like sales and operations planning, performance management, cost-to-serve, supply chain segmentation. Those are the big processes that folks need to focus on to improve the maturity of their supply chain
To address those challenges, this year's theme, ACT: Aspire, Challenge, and Transform in a Disruptive World, aims to help supply chain specialists recognize the impacts of market disruptions and create transformational strategies that empower the organization to exceed performance expectations.
With five comprehensive tracks and over 55 sessions covering the full spectrum of supply chain, attendees will learn what their teams need to anticipate, adapt, and transform in their supply chains. Supply chain analysts and visionary guest speakers will share inspirational new thinking and valuable lessons learned in their careers. The event will also include workshops, round table discussions, and case studies, as well as a pre-event Industry Value Chain Exchange Series and interactive networking opportunities with your peers.
As a conference platinum sponsor, Anaplan would like to invite you to participate in some special onsite activities, including:
Watching a demonstration of Anaplan for connected supply chain at the Solution Showcase.
Come by and visit Anaplan at booth 208, located in the Grand Saguaro Ballrom, to learn more about how Anaplan can enable you to transform your supply chain. Click here to schedule a meeting with us at the conference to learn how the Anaplan platform is uniquely suited to address challenges of the modern supply chain by connecting data, people, and plans across the business, allowing organizations to proactively respond to disruptions, reduce supply chain costs, and profitably align the supply chain to market opportunities.
If you haven't yet registered for the event, use Anaplan's sponsor discount to save $425 off the standard registration rate. On the registration page, simply enter priority code SCESP39 to unlock the discount.
If you are unable to attend, you can see Anaplan for supply chain in action with our demo series.
We hope to see you there!
Explore our demo series to learn more about Anaplan for supply chain