Groupon builds a decision matrix to prioritize its Anaplan expansion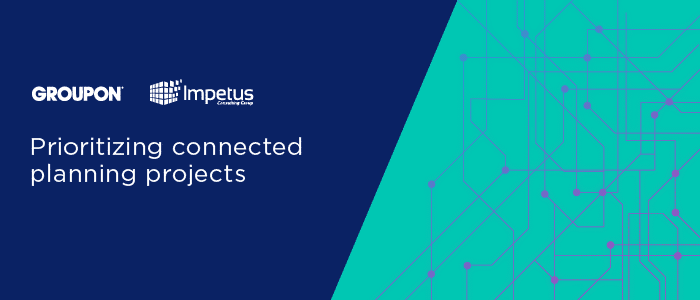 NASDAQ-listed Groupon helps shoppers find the best a city has to offer by putting millions of subscribers in contact with local merchants offering daily deals on activities, travel, goods, and services. Groupon's first deal was a half-price offer on pizza at a restaurant on the first floor of its headquarters in Chicago. That was back in November 2008 when its e-commerce marketplace was launched. Since then Groupon has grown its offering and invested in its platform, and today has over 50 million regular users.
Pioneering this ground-breaking business model called for both an entrepreneurial spirit and a willingness to experiment. Successful strategies and tactics had to be quickly leveraged while unproductive tasks needed to be swiftly culled. Enabling such a "sense and respond" environment called for real-time insight and rapid cycle times in all parts of the business—including Groupon's finance function, which chose the Anaplan platform for consolidating country P&Ls back in 2013.
Where to go next with Anaplan in FP&A?
Groupon quickly built up country-level P&Ls (which had been produced using spreadsheets) directly in the Anaplan platform using business-defined drivers, and built dashboards to improve their reporting capabilities. These steps alone reduced the cycle time from three weeks to just a few days, and left Damien Schmitz, Senior Director of FP&A at Groupon, with a conundrum familiar to many who use Anaplan's highly versatile and capable platform—namely, "What should I do next?"
Unifying current processes to achieve end-to-end integrated planning was an obvious next step, as were improving connectivity to transactional systems and making more use of Anaplan's reporting capabilities. But in addition to the usual questions about where to start and what priority to give to all the possibilities, Damien had some specific questions he needed to answer, such as:
When to implement an Anaplan data hub?
How best to support management reporting and analysis?
How to maintain the current monthly forecasting and consolidation process while replacing the individual modules?
To help Groupon's finance team work through these issues, Damien called in Alex Cohen, President and Founder of Anaplan partner, Impetus Consulting.
Utilize a decision matrix to establish priorities
Using an elegant decision matrix to categorize the various opportunities based on the number of users who would benefit and the speed at which enhancements could be delivered, Alex and his team helped Groupon develop a roadmap tailored to business priorities, skill sets, and available budget.
Groupon found that, with over 9,000 employees, there are a lot of people at Groupon involved in workforce planning. This was quickly identified as an immediate priority at the top of the Anaplan "to-do" list, closely followed by CAPEX planning. Other possible enhancements, such as implementing the Anaplan data hub (which was viewed as a critical building block for the long term) were slotted into the roadmap once Groupon had benefited from some quick wins.
The way you deploy Anaplan will differ from what Groupon settled on. However, the process Damien and Alex went through is enlightening for anyone deliberating their own next steps. Watch them explain that process in their Hub session, "Groupon, an Anaplan Original, achieves continuous improvement."