Holiday inventory management: a $50 billion challenge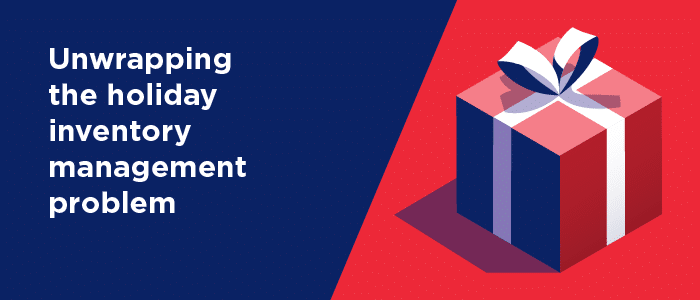 The most wonderful time of the year may be about candy canes and twinkling lights, but retailers have a lot more than sugarplums dancing in their heads. Those who live and breathe the retail supply chain are obsessing over stock levels, merchandise assortments, and inventory management to have a successful holiday season.
There are two main issues facing retailers during this season: dead inventory and hitting full-price sell-through goals.
Twenty percent of retail sales come during the holiday season, and according to the National Retail Federation, holiday sales are expected to hit $682 billion this year. With such high stakes, the financial risks of poor inventory management are high, and companies are feeling the pain. After all, there's a reason post-holiday sales are so popular: Retailers slash prices to get rid of excess inventory.
So just how expensive is this problem? Take a moment and chew on this stat like a piece of twice-microwaved leftover turkey: It's estimated that dead (that is, unsold) inventory costs the U.S. retail industry as much as $50 billion a year. It's a double-edged sword—no retailer wants to lose massive amounts of money on dead inventory, but they also don't want to run out of that one "hot item." (Remember the Furby and Tickle-Me-Elmo madness?)
And to add to the problem, today's omni-channel retail world introduces a new set of challenges. Consumers are demanding options for both purchasing and returning goods, and the bar for performance is rising. In this environment, retailers can't afford to lose billions on dead inventory year after year.
Another challenge for retailers during the holidays is meeting their full-price sell-through goals. A common industry standard is for 60 percent full-price sell-through, meaning that retailers expect 40 percent of a product to be sold at marked-down prices. In an industry this large—with nearly $5 trillion in retail sales in the United States alone this year—the cost of selling so much marked-down stock adds up fast. And in a space that's changing as rapidly as retail (and killing off those who don't adapt quickly enough), not many can afford to take huge hits on poorly managed inventory.
But what if you could avoid taking a huge holiday hit from dead inventory and the a low rate of full-price sell-through? A connected and collaborative approach to inventory planning could be the answer. Like many others, you might be managing inventory planning with a mix of spreadsheets and legacy or homegrown systems. The Anaplan App Hub offers a large lineup of retail-specific applications, including inventory management software, and global retailers like Carter's are using the Anaplan platform to better manage their inventory. Carter's, for example, removed four to six days of inventory from their supply chain, resulting in an increase in working capital.
Though this year's holidays are in full swing, next year's supply chain planning is well under way. For many of you, that means heading to NRF 2018—Retail's Big Show—in January (after the post-turkey coma has worn off). If you're attending NRF, come by and see us to learn more about how the Anaplan platform can help you succeed.