How much workforce planning do you need in turbulent times?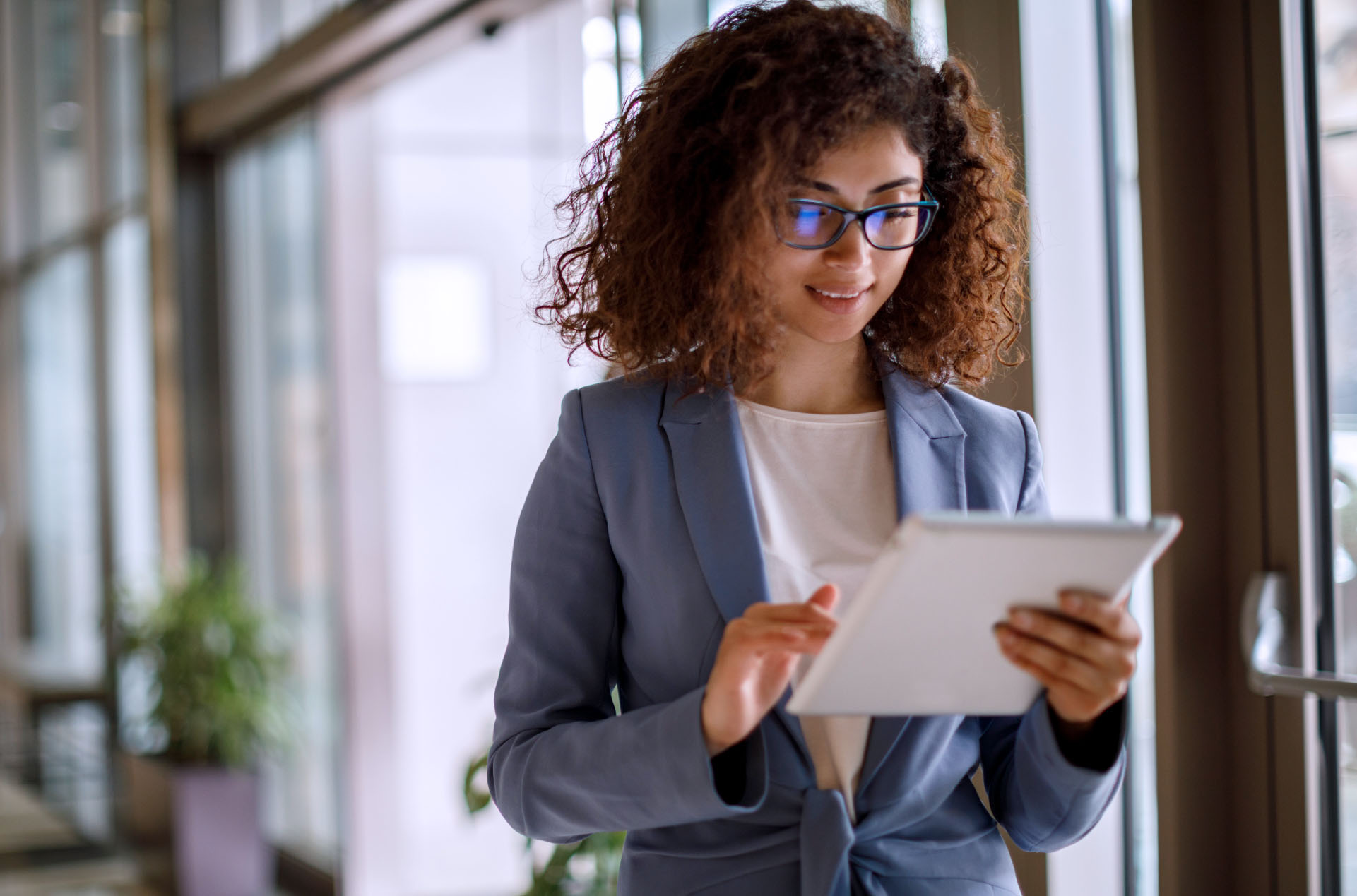 Complexity—Disruption—Uncertainty. Delivering during what feels like a never-ending cycle of change. Large-scale change, emergencies, significant revenue events and a company's future—all roads eventually lead to HR. This is not surprising, as they manage the largest cost on any companies' books. But in the current climate, the scale is unparalleled.
The constant review and adjustment of sales forecasting and financial budgeting and forecasting impact the business to the point where a review of the workforce is needed regularly. Lock downs, re-openings, rolling back those re-openings—with no vaccine date definitively on the horizon, we simply must continue to flex and adjust.
So, how does HR juggle all these needs? The To Do list is long and complex!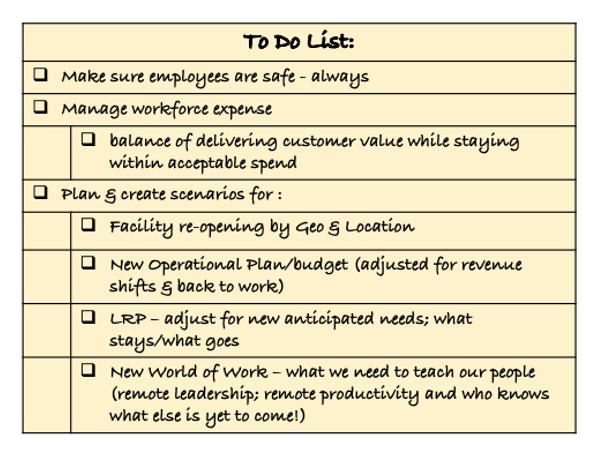 Employees not only deliver your products and services to your customers, they are also the ones you are building the future of your business with, so careful consideration and approach to changes must be made. Poor decisions can impact not only the near term health of your business, but also your long term employer brand.
But dealing with disparate planning systems—a plethora of spreadsheets, on-premises and cloud solutions, out-sourced solutions—means that there is no quick report to pull out and take action on.
It can seem overwhelming in times like now, but not if we break down the workforce planning problem into categories for ease of approach.
The workforce planning models you need now
People operating model: Tied to revenue.
Re-opening model and plans: Rolling and agile.
Long-range plan: Revisited and refreshed.
Each category has its own considerations and guardrails.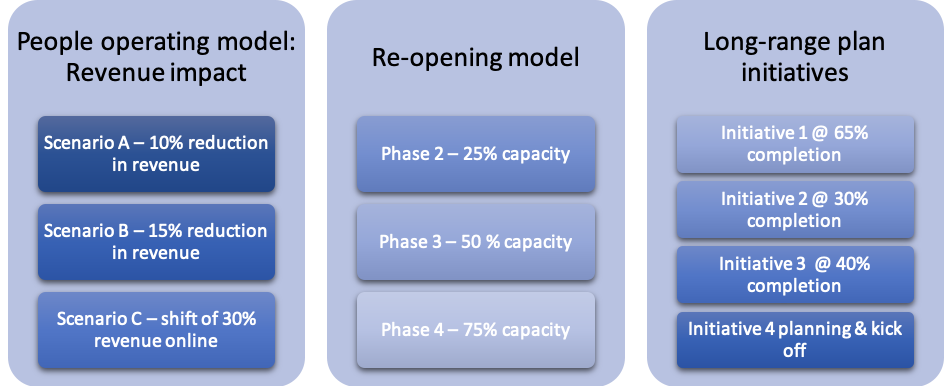 The Operating Model: Creates your foundation and removes the heavy lifting of reporting and managing the existing workforce from downloads, spreadsheets, and fire-drills for reports to management. Leverage your existing structure, costs, and role designation (mission critical/business continuity/strategic initiative, etc.) and add in the viability of continued remote work, as appropriate (this ties in with your re-opening model). Ideally, you will have the functions and roles/business units/functions tied to revenue actuals and projections, giving you the ability to set plan governors that provide alerts when thresholds are exceeded.
Re-opening model: Identify near- and mid-term approaches that deliver value safely.
Overall, the return on going back to facilities must far outweigh the risks (from the customers' and employees' perspective first and foremost).
People: Customer and employee experience

Getting there—can they get to the office (transportation/child or dependent care/health risks associated with it)?
Consider why being there matters. Does it add value to the customer? Does it enhance the productivity and engagement of the employee?
Is it safe to be there and comfortable? What adjustments need to be made?

Place: Does the experience of being in the facility again outweigh the work to reconfigure space for social distancing, cleaning, and health monitoring?
Is there access to the office (elevators, stairs, escalators); public transportation; parking?
Overall situation: In some companies, it is critical for some employee populations to return to the office/facilities. For some, the benefits are negligible and simply not worth the costs associated with it, or, more importantly, the health risks to employees and customers. Some organizations are planning but postponing taking action until the statistics on the virus reach an acceptable level.
Long-range plan (LRP) Initiatives: Revisit and revise.
Things have changed: There are questions to ask:
Is this a temporary change in buying/direction? How long is this anticipated to continue? (Duration of reduced business activity due to COVID-19, or phased recovery as the business opens up)
Is this shift likely to be maintained for the duration and beyond the COVID-19 impact?
Is this a permanent shift?
Does an existing initiative need to be accelerated?
Does an existing initiative no longer make sense?
Each plan will give clarity and options to the period we are in or moving toward. They must remain agile and adjustable, and provide an easy way to stay up to date in real-time.
Building this foundation now will ensure that you are able to keep up with the demands of the near future with COVID impacts and keep you poised for accelerating to the new world of work.
To hear more, click here for our webinar on Keeping pace with Agile Workforce planning: Planning at Speed