How planning becomes Connected Planning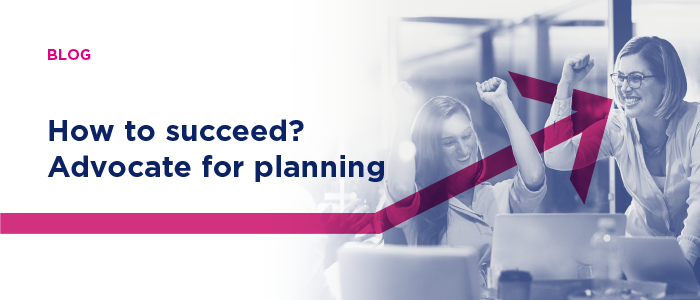 When Anaplan was founded in 2009, we knew we were delivering industry-changing technology. Nine years later, we know that companies around the world still struggle with their planning. The speed of business continues to accelerate, and we continue to see companies strive to stay agile, anticipate market changes, and gain an edge over their competitors.
To raise even more awareness of the challenge, we recently introduced The State of Connected Planning, the first-ever global survey on planning. We queried more than 1,000 businesses globally to discover how companies plan, how they value planning, and what prevents them from planning more effectively.
Why plan, you may ask? Because it is the critical mechanism that provides direction and keeps organizations aligned in achieving key strategic and business objectives. Effective planning is the bridge between strategy and execution that allows organizations to be nimble and flexible for business success.
What we learned: executives around the world believe that planning is essential.
90 percent of executives, for example, call planning critical in their company
82 percent believe that planning is "critically important" for enhancing revenue
73 percent say planning is "critically important" for managing costs
We also learned that success doesn't come from simply knowing that planning is important: It comes when a company's executives advocate for planning and promote the practice throughout the organization. The differences are unmistakable. In every measure of success in the survey—rate of growth, ability to respond to market changes, ability to put plans into action, overall satisfaction with planning—the companies that are more successful have teams or individuals who dedicate themselves to planning. Planning simply works better when it comes from the top.
How planning becomes Connected Planning
After close to a decade spent entrenched in planning, we've seen how companies who plan successfully are those that stay ahead of their competitors. They're better able to align priorities across the organization, they allocate resources more effectively, and they stay agile in the face of market changes.
At the same time, our survey showed us the many different ways companies struggle:
86 percent of companies say they should collaborate more or better when making plans
77 percent of companies believe they need to improve in at least two areas: data, people, processes, and technology
68 percent of companies say that two or more challenges keep them from adopting new ways to plan
The truth is that the problems plaguing companies aren't traceable to one function, or one level of the business. In fact, our survey verifies that successful planning isn't just about implementing the right technology. It's also about putting the right processes in place. It's about growing a company-wide culture. It's about hiring the right people and getting them to collaborate with one another.
This is how organizations turn "planning" into "Connected Planning": They bring together not only data, but people and processes from across the business, integrating them all to keep the entire company collaborating at every moment. This is perhaps why 96 percent of businesses state that planning is important for aligning priorities across the organization.
Planning from the top
As Anaplan's first-ever CPO (Chief Planning Officer), my job is, in part, to ensure that planning stays a priority throughout the company. It's to make sure that our organization is committed to connecting all elements of the business so that they work together. It's also to inspire other companies to do the same.
Among enterprise companies, my title is relatively unique—for now.
As companies start to take stock of the future, they are realizing that success will in part rest on their ability to plan well to make better decisions faster. Our survey shows that planning well means connecting the whole company. It also shows that the best way to connect the company is to make planning a priority—and this priority should ideally come from the top.
I invite you to read our report to learn more about how to incorporate Connected Planning at your organization, and how to advocate for better planning worldwide. Or, learn more about my role as CPO by reading my newest post on Anaplan Community.