How should my organization approach Connected Planning?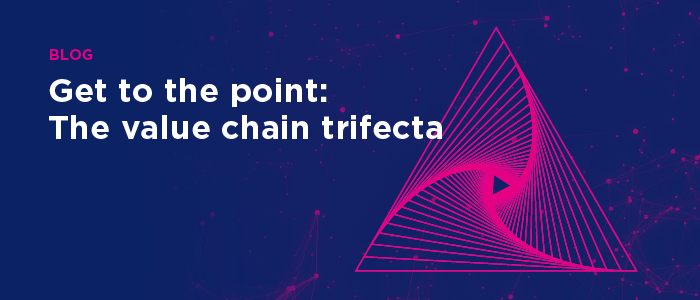 This is the first article in a series of blogs that discusses how businesses can leverage technology across the entire value chain.
"I'm really looking for a way to collaborate less with my colleagues."

—said no Anaplan customer ever.

It goes without saying that sharing information and knowledge across traditional organizational boundaries can greatly enhance performance. When it comes to flexing the possibilities of Connected Planning, the question is never whether or not to connect—it's always "Where should we connect?"
When posed with this exact question, I find myself reverting to my former consulting roots giving the classic consulting answer: "Well, it depends." Just what does it depend on, you ask? It comes down to what your organization or company is trying to accomplish. Revenue growth? Margin optimization? OPEX reduction? Asset efficiency?
Your specific organizational goals help determine the right place to start your Connected Planning journey. Yet for many businesses, the concept of Connected Planning seems far broader: akin to an "all things to all people" business catchphrase. So, how should businesses think about Connected Planning as a distinctive journey; equally as important, what does it look like in action?
Connected Planning looks different for every organization because, well, it is completely different for every business. The stark opposite of out-of-the-box technology and cookie-cutter planning approaches, Connected Planning complements the unique architecture of every enterprise, its distinct business models, and any differentiated needs that the organization has across every business unit.
Figuring out where to connect throughout your Connected Planning journey also depends on understanding precisely where to begin. Although the thought of developing an impactful, go-forward roadmap can feel like a daunting exercise at the outset, its approach really isn't as complex as you might think.
It all begins with following a simple yet powerful framework for success.
Implementing a value chain planning framework
In our experience working with Anaplan customers, companies have the greatest success when they follow a three-step framework that helps unlock greater insight and alignment in understanding how to drive maximum value from their Connected Planning journey.
Here is the basic value chain planning framework that we share with Anaplan customers:
Define the strategic imperative. Define, align, and understand the strategic imperative that drives your company's competitive advantage. Clarity on this overarching principle enables your company to unify on its roadmap.

Examples of a strategic imperative can be aligning the revenue engine, planning for margins, OPEX optimization, and asset optimization.

Identify the critical use cases. Next, your company should ask "What are the critical planning, alignment, and decision-making processes (use cases) that enable our strategic imperative?"

During this step in the framework, each company should identify use cases across multiple business units, from finance, operations, supply chain, HR, or sales. The key to this is to be hyper-focused solely on the use cases that are deemed most critical.

Logically order the use cases. Finally, order the use cases into a logical flow. During this step, the focus should be on sequentially ordering the use cases, so they optimize the decision points that drive the overall strategic imperative.
The final result will be a planning value chain that, when connected, drives improved decision-making, enhanced collaboration, and impactful results.
A look at what's ahead
In a previous blog, I discussed how Anaplan can enable successful ZBB deployments based on the platform's flexibility and scalability, which is supported by Anaplan achieving Gartner's Magic Quadrant Leader statuses across three separate planning categories/functions on a single platform.
Value chain planning needs the same level of flexibility and scalability as ZBB. This level of flexibility can help enable planning within any category and across any organization and function. At the same time, its flexibility is scalable to the largest organizations within the same platform.
In the subsequent blogs in this series, we will discuss different strategic imperatives, detail the critical use cases, and order those use cases. Although these are not meant to be specific to any company, they will demonstrate how companies can begin to think about Connected Planning and what it can look like in action.
Here are some of the strategic imperative examples that will be discussed in greater detail throughout this blog series:
Aligning the revenue engine.
OPEX optimization.
Margin improvement.
Driving revenue.
| | |
| --- | --- |
| Are you ready to go beyond traditional planning? In this on-demand webinar, you'll learn how to integrate finance with HR to align to revenue planning targets and deliver results. | Watch webinar |