How to create a "Customer First" culture in your organization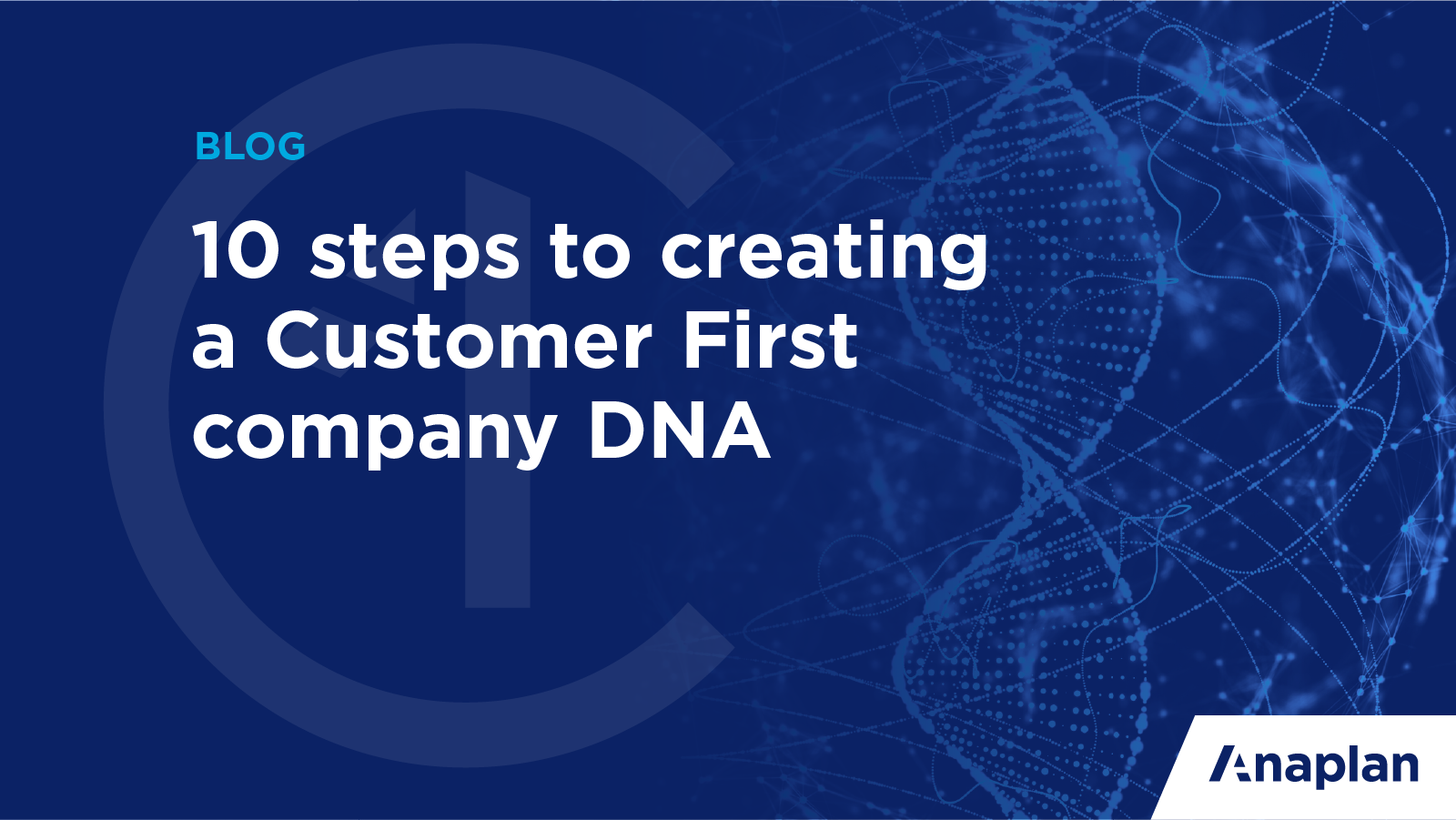 The market has been rewarding companies that are customer-centric. This is a time of evolving customer expectations and rapidly changing product ecosystems. How can you ensure that your customers' needs and goals are met in this dynamic landscape? How can you keep up with changing patterns?
Anaplan's Customer Experience team is obsessed with creating great experiences for our customers—it's embedded in our DNA to focus on Customer First (C1). Our vision is to expand this mindset across the enterprise. We wanted to scale beyond our team's resources—especially during change and hypergrowth—to continue to nurture and expand our C1 mindset in everything we do as a company going forward. Our solution was to create a scalable Customer First framework. Here's how you can do it too.
10 steps to implementing a Customer First philosophy in your organization:
Executive sponsorship. Get leadership buy-in and support. Determine whether or not you have this key ingredient—if so, you are ready for the next step. If not, prepare a plan to get there. Do your research, build the case, and understand the ROI.
A supportive organizational structure. Reflect on where allies and champions for Customer First exist in your organization. Leverage these throughout the process. Communicate with this group often about your progress and plans. At Anaplan, we have a Chief Customer Officer and a robust Customer Success team to keep C1 efforts at the forefront.
Uncover the gaps in your current experience. Customer journey mapping and user feedback are great tools for this process. You can rely on your key stakeholders and subject matter experts to fill in any knowledge gaps.
Design the ideal state. Collaboratively map the ideal customer journey with a cross-functional team. Involve customers in this process, whenever possible. Base your decisions on customer research and feedback. Engage your internal experts across many functions—each has a different lens on the customers and their needs.
Create a realistic framework for success. Once you've mapped the future state of the customer experience, create an action plan to operationalize this within your organization in full context. Limited resources? Quick results needed? Prioritize rigorously. Simplify. Work closely with your leadership, champions, and allies to rally the organization on implementation of Customer First.
Make employee empowerment part of your action plan. Define Customer First behaviors—then educate, train, and reward employees for creating great customer outcomes. Empower your employees to put Customer First above other tasks to help them prioritize. Anaplan's leadership often reminds employees that our customers are our first priority, our second priority, and our third priority. We train new employees about the customer journey and demonstrate behaviors for how to be Customer First during onboarding.
Know your customers. Create a robust customer feedback process within your organization. Leverage cross-functional teams with direct customer access. Spend some time optimizing the feedback collection process, so the insights illuminated can become actionable. For example, we recently implemented a new health scorecard at Anaplan to understand customer metrics and behaviors for success. Remember, research is only representative of a moment in time, so it must be renewed continuously to reveal current trends, triggers, and impacts to the customer experience. What worked yesterday may not be effective tomorrow.
Build authenticity, empathy, and trust with your customers. Focus your product and service improvements on the moments that matter most to your customers. Engage your employees in true customer empathy. We created empathy training for our employees across the organization with in-person and on-demand learning courses. We also reward and recognize employees for making moments that matter for their customers—both internal and external.
Create success metrics that reward improved customer outcomes. Learn how to make your customers more successful and create organizational success metrics that measure it. Celebrate the wins and increase your connections with your customers.
Iterate and improve. Invite feedback and refine your processes to target new areas for improvement. Listen, learn, and iterate. Create a plan to improve continuously over time. With evolving expectations and constant change, this initiative is never finished, but keep at it and you will see your customer satisfaction and engagement rise.
With these steps, you can design a shift in culture with renewed focus on the customer to create great outcomes at scale and over time. Customer First can become part of your organization's DNA too. At Anaplan, we have empowered our employees to acquire the insight and inspiration to create delightful experiences for our customers more often. This means our customers have a support structure to guide them every step of the way, and are now more likely to encounter empathetic, attuned, and knowledgeable employees. During implementation of Anaplan, we let customers know exactly what to expect from us every step of their journey. We establish early on that we are partners in their success.
Deep customer connections—and inspired and empowered employees—will enable you to make Customer First happen each and every day. We continue to look for new ways to improve and grow our C1 culture, and we innovate and iterate as we go.
Hear what our customers have to say about their Anaplan experiences.
| | |
| --- | --- |
| Hear what our customers have to say about their Anaplan experiences | Read stories |