How to improve efficiency in territory and quota planning for a strong year ahead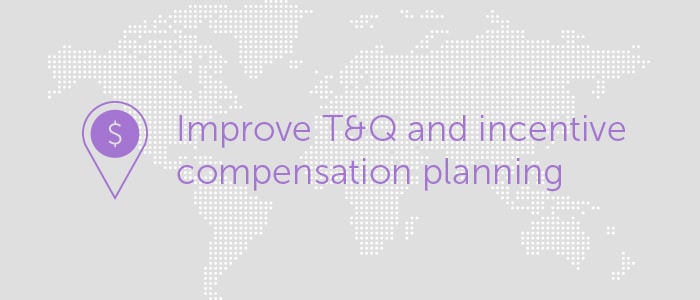 To many sales leaders, the start of a new year means developing expectations for sales performance in the coming months—but many businesses often fail to set accurate sales targets due to the lack of adequate sales territory and quota planning. A standard method is to simply look at the previous year's revenue and add what appears to be a reasonable rate of growth. However, this does not provide a full picture as it does not take into account important variables and can therefore lead to unreasonable, unattainable sales targets.
Sales leaders typically struggle to establish equitable territories and set achievable quotas, which results in re-evaluation and modifications from sales teams. This wasted time can result in lower sales productivity, underperformance, and even attrition. Many sales leaders are all too familiar with the constant squabbling over turf and target goals, but this struggle to produce accurate territory and quota expectations is not solely the fault of sales leaders, but instead on the tools they are using.
Save time with improved territory and quota planning
SiriusDecisions' Sales Planning Survey found that 50 percent of organizations create between 5-10 iterations before finalizing their sales plans, while 28 percent create more than 10 iterations. This back-and-forth between sales executives and the field team is not only a time-waster, but also causes frustration and tension within the department—and more likely than not, all this can be avoided with the right sales territory planning and sales quota planning solution in place.
Many companies are still doing their incentive compensation and territory and quota planning and modeling in spreadsheets, while juggling the stress of completing the sales plan for the year ahead. With the lack of consolidated insight into historical performance and future scenario planning, sales is playing a guessing game of which territories will best perform.
Additionally, territory assignments often are not communicated to the field sales team until weeks or even months later because of the additional time needed to run the numbers, complete the forecasts, and determine incentive compensation. And after all this, sales leaders often still lack the ability to easily make adjustments—whether to territory assignments or quota setting —to ensure strategic alignment if company goals change.
Had enough of this stress? Why continue to use spreadsheets when there are other options available to streamline the territory and quota planning process? With Anaplan, sales leaders in your company can optimize sales territory mapping and align quota plans with revenue plans by using data-driven insights to model the market potential. They can also model multiple potential incentive compensation plans by determining the right components and measures that drive successful sales performance.
Make this the last planning season you are refereeing sales reps and the territory and quota strategy.