Transform your planning process: introducing the Anaplan Way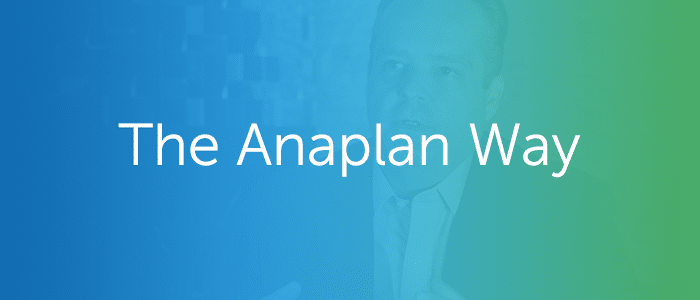 To travel a new path—whether you're going across town or around the world—you want the easiest and most efficient route, created by an expert guide with extensive experience. Just like a smartphone helps you navigate an ideal travel route, we've created a guide for the journey of implementing Anaplan applications and, ultimately, running a smart business.
It's a philosophy and a code that we live by. We call it The Anaplan Way.
The Anaplan Way has helped more than 500 customers succeed with Anaplan, by enabling them to produce and own their own applications. It's a proven, repeatable process that is deeply ingrained in our entire organization. Customers who work with us quickly learn that the Anaplan Way is more than a methodology or framework to implement Anaplan applications; it's a way of working that is truly transformational.
Curious to find out more? Then read on.
With the Anaplan Way, collaboration, prioritization, and broad-based buy-in come before project planning. We want to understand and help you articulate the strategic vision for your application. ("Measure twice, cut once," as the saying goes.) That's why you, the customer, need to be fully engaged right from the start.
This methodology follows a structured flow of events with specific phases and milestones, but because changes inevitably crop up during a project, the Anaplan Way is also flexible and adjustable. With each step, you become more enabled and empowered to own the application and expand upon it.
Don't worry—it's not a slow, drawn-out experience. We strive to help you deliver a focused initial release within a few weeks or months, and then follow it with focused, iterative releases as quickly as every two months.
If you're new to this rapid way of working, the Anaplan Way might seem disorienting or strange at first. When customers get this feeling, I reassure them that the team has been down this road many times, and has helped teams at some of the biggest companies in the world become Anaplanners. Have faith in the process and in your Anaplan business partner (whether it's an Anaplan employee or one of our alliance partners) and you will succeed.
It's also good to remember that the Anaplan Way is about us teaching you to fish. You'll learn to build models and run implementation projects, and in the process, you and your team will build the skills and confidence that will enable you to expand your initial Anaplan application. In fact, more than 40 percent of our customers have gone from a single initial elegant land (that is, the smooth launch of their first application) to more than three beautiful expands (new, even more powerful applications). The Anaplan Way enables our customers to connect critical processes and become smart businesses—and many of them build their own Centers of Excellence or Anaplan competency centers.
Rather than get into more details of the methodology here, I've recorded a few short videos that explore its concepts and methods. These and other resources are collected on a site devoted to the Anaplan Way. You'll also find our Anaplan Way community on the site, which is frequented by users like yourself, as well as our partners and our team of consultants and experts. We hope you'll join the community, participate in the discussions, and learn as much as you can. And when you see something you like, please share on Twitter, LinkedIn, Facebook, Google+, and Instagram using the hashtag #TheAnaplanWay.
I wish you the best of luck on your journey using the Anaplan Way.