Malaysia Increases Number of Certified Anaplanners
The Anaplan customer base is expanding rapidly around the globe, and so are the numbers of certified Anaplanners. Here in Malaysia we recently certified 27 consultants from seven different partner organizations. Some of the partners represented include Deloitte Consulting, Astrums Consulting, Goldbury Communications, Magnus Consulting, Araken Consulting, InSynchro and Privasia.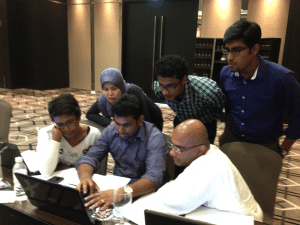 The certification course, Anaplan University, was conducted over the span of two days at Connextion @ Nexus, Bangsar South, in Kuala Lumpur. Bringing together a large number of consultants in a room is a rarity, and really speaks to the excitement around Anaplan's agile and innovative technology. There was a lot of energy throughout the entire training, and you could feel the momentum building as people tested out some of Anaplan's new features from the Spring Release.
In order to become a certified Anaplanner, the participants had to not only complete the multi-day training, but also work in teams to build a specific Anaplan model in either Sales, Finance, or Operations. At the end of the certification course the consultants completed the official Anaplan online test– and we are happy to say they all passed with flying colors!
These newly certified Anaplanners will take their skills back to the workplace, where they can share their knowledge with their colleagues and customers. Many participants expressed excitement about the newly launched Anaplan Learning Center, which allows them to refresh their skills with on-demand courses and other online resources. More information about Anaplan training and enablement here.
For new-age consultants tackling new-age problems, our platform is taken directly back to their businesses and to the problems at hand. Anaplan enables them with agility and speed for their new and existing customers, without the rigidity of the traditional software options. As Anaplan continues to grow and expand in APAC, we look forward to certifying many more Anaplanners!