Modernizing Connected Planning for the mining industry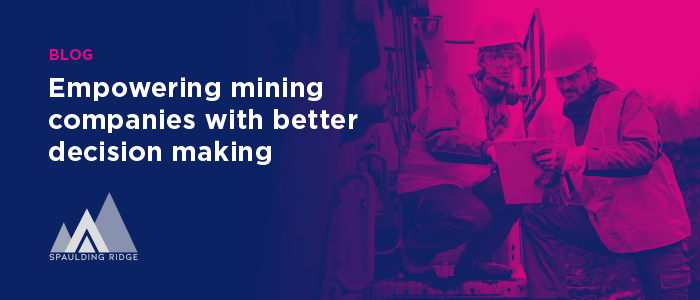 Unlike most businesses, mining companies (particularly those extracting precious metals) have little control over the demand for, supply of, and pricing of their product. Over the last few years, the level of uncertainty has increased in the market, and there is always a degree of risk due to constant changes in global mining policies. Because of this, there is clear opportunity for mining companies to add value to their businesses by having the ability to react quickly to market changes. Even in situations with a robust underlying demand, having the ability to improve on the margin can be the difference between attracting and not attracting capital, especially for newcomers in the mining industry.
Current challenges facing mining companies
Mining companies need to make strategic decisions that involve the allocation of huge amounts of capital to explore for and extract their product. Moreover, they must also make operational decisions designed to maximize returns on their investments on an ongoing basis. Small improvements in efficiency in the production line can have a fairly large impact on the bottom line. But to truly achieve operational efficiency, information and data must be shared across the globe, between departments, and between management levels. Often complex and large in terms of both organizational and budget requirements, projects in the mining industry are often run in remote locations. Because of this, the ability to track operations closely and quickly is a key to success. Publicly traded mining companies also contend with providing accurate, forward-looking financial guidance to the capital markets, where results are highly scrutinized and "missed quarters" can have a negative impact on stock price. This is yet another reason why having accurate data is critical for mining companies.
From siloed to Connected Planning in mining
A cloud-based Connected Planning platform like Anaplan unifies data, people, and plans within a single system. From an operational and tactical perspective, the Chief Operating Officer, together with regional and mine management teams, need specific and accurate information (both financial and operational) to assess each situation and make the right decisions regarding different mining sites. For example, changes in metal prices, coupled with changes in production costs, can impact the overall mining plan as well as the financial plan. Having the ability to quickly, easily, and accurately assess the necessary data to alter assumptions used to plan can be the difference between being a leader or a laggard in the industry. When you can confidently and transparently keep track of all the resources going into various capital projects, it makes it easier for the entire organization to plan its allocation resources and communicate progress to investors.
Empowering mining companies to make better decisions, faster
A Connected Planning approach for mining companies means that all relevant data is modeled in a single, centralized platform. In addition to traditional financial planning, a Connected Planning platform can be used to plan for, and link together plans from every functional area of the business, ranging from S&OP and sales to workforce and IT. This empowers businesses to make quicker and better-informed decisions, creating a competitive advantage. Models can be built quickly and without dependence on IT or advanced coding skills to connect different time horizons. This allows users to predict monthly and quarterly production figures on the fly, based on actual daily production. Because all relevant data is stored within the same system and shared collaboratively, it improves the natural downstream flow of information in the production process and stockpile management.
Spaulding Ridge has built a reputation based on several years of experience working with large mining companies across the world to improve the enterprise performance management processes. We've partnered with mining companies on improving the following: strategic and long-range planning, close and consolidation, detailed mine site planning, reporting and analysis of various aspects of mining operations (both financial and operational), and detailed business intelligence (BI) projects at mine-site level.
Download our full whitepaper on Connected Planning for Mining and sign-up for our upcoming webinar, led by our industry experts at Spaulding Ridge as they discuss new approaches to business planning for mining companies. Contact Johan Rehnstrom for more information and to discuss how Connected Planning for Mining can help transform the way your company makes critical decisions and achieves performance goals.