A new chain link: connecting supply chain and finance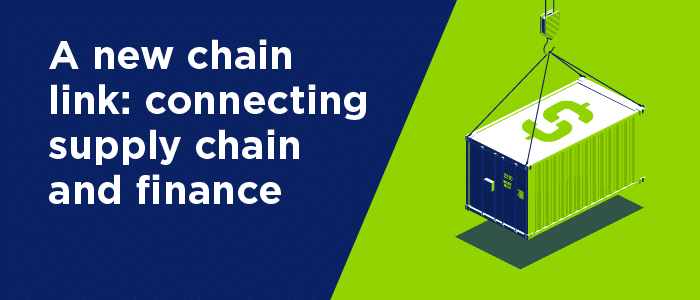 The planning process for supply chains spans myriad and diverse touchpoints. From factories to suppliers, distributors to vendors, and everything that falls in between, a multitude of elements need to be considered for optimal forecasting and business planning.
For supply chains, an even greater opportunity is waiting in the wings—the adoption of a more holistic business planning approach that can connect sales and operations planning (S&OP) to finance. Known as integrated business planning (IBP), this methodology can help organizations achieve faster growth and gain a competitive advantage in the midst of steady disruption and unpredictable market environments.
Geert Wullaert, Founding Director at bluecrux, was a recent guest speaker on an Anaplan-hosted webinar and explored how supply chains can use agile technology to transform rigid, irregular planning processes into real-time scenario-based planning. In it, he also shared key insights into the five steps that supply chain organizations can take to implement a sustainable, finance-led IBP process.
IBP and S&OP: What's the big difference?
A common question the team at Anaplan fields from prospective clients is about the differences between a traditional S&OP process and a finance-led IBP approach. According to Geert, the short answer is that traditional supply chain planning—an end-to-end process that spans raw materials to final customers—focuses on finding any suitable solution to fulfilling consumer demand. A finance-led IBP approach, on the other hand, takes on a slightly different rationale and focuses solely on solutions that will not only fulfill the demand, but will also maximize the company's margin in the process.
In a supply chain organization, the S&OP team is responsible for creating and maintaining an accurate forecast. In a more traditional monthly S&OP process, this routine activity can often take as long as three weeks to account for the prior month's events. As a result, demand planning influenced by that information has already become obsolete as the demand has likely shifted by the time the planning is completed.
This also makes financial forecasting, which relies on that same demand plan, unreliable. In fact, without a universal and real-time view of demand, the ability for a supply chain to respond nimbly to disruptions is nearly impossible. With an IBP approach, financial and supply chain plans are integrated with one another into a comprehensive view of the business that allows an organization to improve processes and optimize business performance. The holistic approach offers organizations greater alignment and accountability, better decisions and actions, and increased visibility into the business.
Five steps forward—no looking back
The implementation and practice of IBP is a journey for every organization. It requires effective governance, a clear mission, the right talent, powerful technology—and more. In the webinar, Geert focused on five crucial steps that supply chains can take to adopt finance-led IBP within their organizations. Below is a high-level recap of Geert's recommended steps to implementing a similar methodology:
Make business decisions with the right stakeholders. Organizations should determine the ideal executive stakeholders to involve in the implementation process and how to involve them throughout every step. For a sustainable and long-term IBP approach, finance, supply chain, and operational executives should be aligned with one another and participate actively. While the finance team should operate as the process owner, departmental plans should flow from these real-time insights for more optimal business decisions and trade-offs.
Connect the finance and supply chain plans. Ultimately, IBP is the aspirational planning process that serves to connect supply chain and finance. As an example, Geert illustrated how the methodology can flow through the enterprise to improve business performance. With the initial review and reconciliation from the supply chain that flows to the finance, operational, and sales plans, IBP helps organizations better define and support scenarios or business trade-offs.
Expand the business horizon. The IBP methodology enables and encourages organizations to look at mid- to long-term business horizons for optimal performance. However, many supply chains look just three, six, or nine months into the future. According to Geert, with an IBP approach, companies can extend this landscape to 18–24 months, enabling them to see and prepare for emerging business trends, as well as better measure margin and EBITDA evolutions.
Use a single enterprise platform. Geert shared the importance of deriving financial and supply chain plans from a shared technology platform. By doing so, departments can avoid the tedious discussions that can come with having to align different departments to the correct data. Platforms that can support IBP approaches help automatically derive this inter-enterprise data and align reporting and planning structures.
Leverage perpetual financial scenario–based analysis. Technology, like the Anaplan platform, that provides an ability to perform financial scenario–based analysis allows an organization to push its traditional plan approach to new heights. As Geert explained, scenario management, cloud computing, and artificial intelligence capabilities can help enterprises evaluate, consider, and identify their different business scenarios, outcomes, and action steps.
For more insights from the webinar "Five steps toward connecting S&OP and finance"—and to find out how bluecrux used the Anaplan platform to enable an advanced IBP approach—check out our on-demand video.