People of Anaplan: Meet Drew Brieman
From his small-town roots in rural Wisconsin, to working in London in his 20s, to a career in technology sales in the American South today, Anaplan Strategic Account Executive Drew Brieman has cultivated a curious mind and broad interests that help him connect with customers in the Atlanta, Georgia, region. "I'm an introvert by nature, which is perhaps unusual for someone in sales," Drew says. "But it means that I'm a good listener." Listen up and hear his story.
What's your role at Anaplan, and how does your work impact Anaplan customers?
I'm responsible for introducing Anaplan to new customers and ensuring that our existing customers get what they expect from the platform. Much of my time is spent educating organizations on Anaplan's platform and capabilities. Many prospective customers have been burned by other technologies or have "system fatigue," so it takes a while for them understand the depth and breadth of the Anaplan platform and the business improvements they can expect through connected planning.  
Why did you decide to join Anaplan?
I worked for a consulting company that was exploring Anaplan, and in that role, I went through Anaplan training. Within four hours, I built a workforce planning model—with calculations, security, reports, and more— that would have taken four weeks with other technologies. I understood Anaplan's potential to completely change the way organizations plan, collaborate, and make decisions, so I joined the company in early 2015. I had never been in sales, but I was passionate about Anaplan and hoped that would translate to getting the message out to the market.
Have you always been interested in technology?
I'll answer that this way: In my first job, doing valuation research, I printed sales data and manually highlighted things. I hated this manual task on day one, and knew that technology must be able to provide a better way. That led me to take on consulting roles in which I applied technology to help clients automate manual processes, improve decision-making, and become more efficient at planning and forecasting. The work continues, because even with today's new technologies, it's amazing how many of the largest organizations in the world are still drowning in manual processes.  
Tell us about a time when you realized that your Anaplan experience was special.
About three months into my time here, I had a workshop with a Fortune 500 company. At the end of the session, an SVP started laughing and said, "I wish I had had this 10 years ago. I'd probably still have most of my hair." That comment from a senior leader at a large multinational conglomerate made me realize that Anaplan could fundamentally improve the way businesses plan and make decisions.
One other story: When I started working for Anaplan in Atlanta in 2015, our business in the region was minimal. In 2017, we held a user group event at which 35 people, including some from some huge, name-brand companies, shared best practices. And that wasn't even all of our customers in the area, by a long shot. The energy and excitement that comes from being with a growing company is really great to see.  
What is your favorite part of working at Anaplan?
Anaplan is full of smart, hard-working people who are incredibly fun and who want to make a difference. It seems like nearly every person I meet at Anaplan has some incredible story about how they scaled Everest, were a world judo champion, or speak eight languages. We also have a great culture of collaboration, which is refreshing.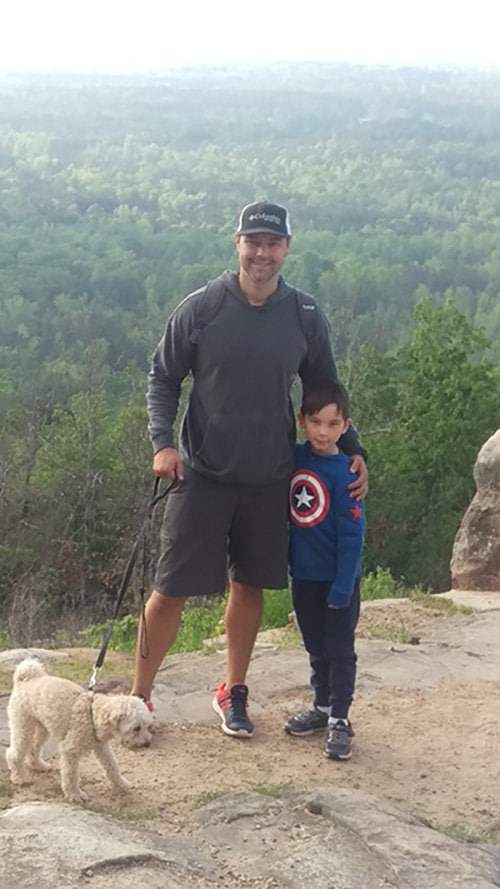 Drew, his son Christian, and their dog Tobey recently scaled Pine Mountain in western Georgia. They love taking father-son road trips.
What hobbies or activities do you enjoy outside of work?
I'm a person who hates monotony. I like to play most sports, from ice hockey to basketball to baseball to golf to football to tennis, but I don't spend too much time on any one thing. (Kite surfing is next up.) Same with reading: I like to read a variety of books—some business, some fun, and some I would put into the "random" category. Right now, I'm reading The Dictator's Handbook: Why Bad Behavior Is Almost Always Good Politics, a really good book that talks about how global leaders rise to power and the strategies they use to stay there.
Apart from sports and reading, a trip to Cuba with my camera is high on my list of things to do.
What is your favorite thing to plan, either at work our outside?
I like planning road trips. The mountains and the beach are both easy drives from Atlanta. Beef jerky, a diet Coke, a good playlist, Tic Tacs, a few hats, my son, our dog, sunglasses, and a backpack are all I need.  
Interested a career at Anaplan? Check out the Anaplan Careers page for current job openings.
Curious about the people behind the Anaplan logo? Presenting the People of Anaplan series, which shines a spotlight on our employees around the world. Learn about their interests and hobbies, what makes them tick, and how they help make Anaplan the leading planning and performance management platform for smart businesses.