People of Anaplan: Meet Gudrun Schütz
Curious about the people behind the Anaplan logo? Presenting the People of Anaplan series, which shines a spotlight on our employees around the world. Learn about their interests and hobbies, what makes them tick, and how they help make Anaplan the leading planning and performance management platform for smart businesses.
Are you an oenophile? No matter how seriously you take wine, Gudrun Schütz, a Solutions Consultant working out of Anaplan's Vienna office, is probably a step ahead of you: She's studying for her Master of Wine degree at the Weinakademie Österreich (Austrian Wine Academy), learning about the winemaking process and the environmental factors that influence the taste of a wine.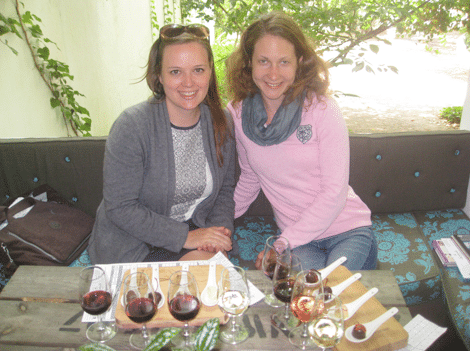 But Gudrun didn't plan on becoming a master of wine. In fact, all she remembers from her childhood is that she talked a lot; her grandmother told her parents: "You don't have to worry about her future. She will earn her money talking to other people." How right her grandmother was—Gudrun's role at Anaplan involves a lot of communication with prospects.
What do you do at Anaplan and how does your work impact Anaplan users?
I work to increase the number of Anaplan users. I cover mainly the DACH region (Germany, Austria, and Switzerland), but also countries in Eastern Europe. I support Account Executives with demos and product knowledge at customer and prospect meetings.
Why did you decide to join Anaplan?
Though I liked working for my previous employers at IBM and BearingPoint, I felt that the large global companies moved slowly like big ships. I wanted to work in a more dynamic environment with a flat hierarchy where decisions are made quickly and my work can have a direct impact on results.
With Anaplan, I found an opportunity to work in a small team—but we still have the support of a global organization when we need it. Additionally, my role as a cross-industry solution consultant covering various European countries provides endless opportunities to expand my network and meet with people from many international companies and brands.
Have you always been interested in technology?
No, despite both my father and my sister being IT specialists and holding degrees in Computer Science. However, I liked using technology after getting my first cell phone (a Nokia 3310) when I was 13 and discovering the joys of messaging my friends from anywhere, at any time.
But because I had such passion for communication, I enrolled at the Vienna University of Economics and Business. My PhD thesis involved developing a program that helped small retailers automatically adapt their online shopbot pricing strategy against competitors.
Tell us about when you realized how fast Anaplan is growing.
I joined Anaplan in November 2015, when the company had just expanded to the DACH region. Compared the company's better-developed regions, we started a bit more in a startup mode, fighting for the first local customers. Seeing the progress we're making and the market awareness we have—compared to even a year ago—is amazing and tells me there's a lot of potential in the DACH market.
Additionally, it's amazing to see how Anaplan isn't only growing in the number of customers, but also in the number of employees. In Vienna, we have only four employees, and it was a lot of fun to attend a global kickoff event in 2016 at the headquarters in San Francisco with about 600 other Anaplan employees. It was a once-in-a-lifetime experience to spend a couple of days getting to know colleagues from around the world.
Interested in growing your career at Anaplan? Check out our Careers page for current job openings.