Quotas and territories: Don't tackle incentives without them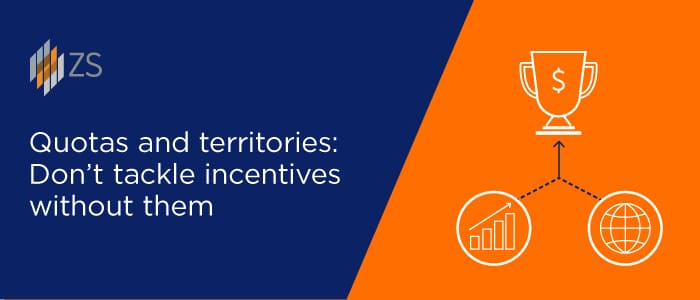 This blog was originally posted on the ZS blog, The Carrot.
The sales comp plan did it.
In the world where sales targets are missed, the sales comp plan is one of the usual suspects—or the assumed culprit.
But you sales comp professionals know that this often isn't a fair allegation. Sales comp is dependent on many upstream decisions; it is the "caboose" of the sales force effectiveness train.
While sales comp is dependent on many upstream decisions, two decisions in particular—quotas and territory definitions—are the most heavily linked to sales incentive plans and payouts. Because many plans tie incentive earnings to quota attainment, the setting of good quotas is just as important as the sales comp design itself. Some companies even consider the setting of good quotas as part of the incentive plan design process.
Because territory definitions outline the "hunting ground" that each salesperson must achieve against his quota to earn incentives, territory assignments are also inextricably linked to the sales comp plan.
Let's dig deeper into the interconnectivity and alignment of the incentives to territories and quotas.
Territories
As we think about how much we should expect someone to sell (quota), companies must start by defining the territory. A salesperson's territory assignment—usually defined as a set of zip codes or assigned accounts—serves as his "hunting ground." Setting a quota depends wholly on the accounts or geography assigned to him.
The territory realignment process is particularly important if your incentive plan pays a commission from the first $1 (even if quotas are not set). For example, a medical device company experiencing below-market growth believed that its root issue was uneven territory sizes (the largest territory was eight times larger than the smallest territory). But when it tried to make them more balanced, the sales force revolted—particularly those with the largest territories—because any reduction in territory size meant a reduction in pay. The territory realignment was abandoned.
A best-in-class territory alignment exercise requires the following:
Includes workload and potential. Both the amount of workload required (including drive time) and the amount of sales opportunity should be included to achieve balance.
Balances within 20 percent of average. Best-in-class companies strive to get all territories within 20 percent of the average.
Requires field input. Once the initial territory design is set, sales managers should be given the opportunity to review and revise the territory assignments (while maintaining balance).
Studies have shown that a balanced territory design will increase revenue by three to seven percent when compared to an unbalanced alignment.
Quotas
Any salesperson who receives a new incentive plan but not a quota knows that she doesn't have the full picture of her earnings potential. "The plan looks good, but I'm keeping the cork in the champagne bottle until I see my quota," she might say.
Most plans kick up the earnings rate beyond 100 percent of quota and many plans instill a steep penalty below quota. But these plan features have an implicit assumption that quotas are accurate and fair across all salespeople—and equally achievable. Salespeople know that's not always the case.
Companies often spend 10 times the amount of time designing the sales incentive plan compared to the time spent establishing quotas. A best-in-class quota methodology process:
Starts with an achievable forecast. If the number that you are allocating down to the field is not achievable, the rest doesn't matter all that much. While HR and sales operations may not be in charge of the forecast, there are simple analyses that can be done to validate the number to be allocated to the field.
Includes territory potential. Not all territories are created equal. Obtaining measures of sales potential (or at least proxies for these measures) is the only way you can effectively differentiate quotas based on selling opportunity.
Utilizes a rigorous methodology. Too many sales forces leave the quota setting to cascading sales manager negotiations with no data to support the final quotas. Field input is very important, as mentioned below, but giving managers a compelling starting point provides them with a much better foundation versus just telling all salespeople to grow by the same percent.
Requires field input. Once the initial quotas are set using a rigorous methodology, sales managers should review and revise them (within limits). Managers have more recent available data that requires them to give thoughtful consideration to the final quotas. It also helps with field buy-in if the sales managers are given input into the process.
Here's why this is important: Say a company rolled out its new incentive plan on January 9 of this year, but as of March 27, it has still not rolled out its quotas to the field. As a result, the incentive plan has been inconsequential. Salespeople have not been expending maximum effort because they don't know toward what quota they are striving. In addition, there was some suspicion that if they started fast out of the gate, management would give them an even higher quota than they would have otherwise. The incentive plan that is based on quota achievement is useless without the actual individual quota.
The first definition of sales performance management systems included territories, quotas, and their relationship to incentives. They are so interconnected that one has to know what is happening with the other two elements to effectively run a sales comp program.
Best-in-class companies (especially those that move territories frequently during the year) follow a clear process that interconnects and aligns incentives with territories and quotas:
Establish the sales potential in each account. There is a significant amount of data available (or proxies) such that every company should know the approximate sales opportunity in each account.
Establish balanced territories. Each salesperson should have a reasonable number of accounts and sales potential.
Based on the territory definitions, establish a fair quota. For the territory based on the amount of historical sales and territory potential, a fair quota is a must.
Go deeper with incentives
Watch the on-demand webinar, "Creating motivating and personalized incentive plans" to find out how to strike the perfect balance between driving desired sales behaviors and aligning the sales team's compensation structure with the overall company strategy.
To find out more about how Anaplan can support you with quotas and territories, watch the video above or read a recent ZS-authored white paper.