Scenario planning as a virtual reality experience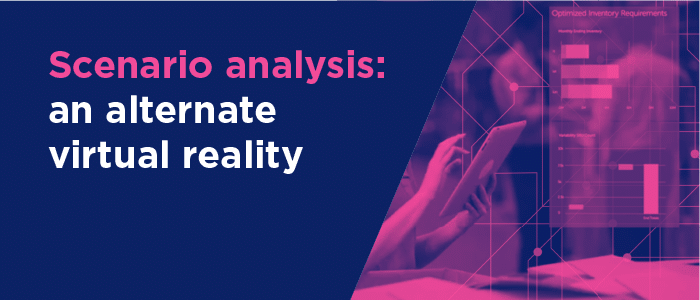 The virtual reality industry reportedly crushed third-quarter records. Exceeding quarterly shipments of more than one million units, virtual reality headsets are continuing on a trajectory of increasing popularity and widening acceptance.
What's more, this simulation technology attracts the curious beyond self-professed tech geeks and basement-dwelling video game enthusiasts. A Bloomberg View article recently explored virtual reality's use in treating post-traumatic stress disorder, helping athletes overcome performance problems, and—taking an admittedly morbid turn—preparing people for their passing.
OK, so death simulation aside, imagine applying this technology to the work you do in your own office. Imagine, for a moment, the ability to simulate different business scenarios to understand the implications, sensitivities, and ripple effect that any situation could trigger throughout your organization. Luckily, for finance teams, advanced planning technology makes this kind of virtual reality—well—an actual reality.
Simulations, scenarios, and sensitivity—oh, my!
The function of financial planning and analysis (FP&A) accommodates many moving parts. From forecasting to budgeting, to interpreting granular levels of data, the financial planning process casts a wide net across an organization. Scenario analysis falls under this umbrella, and it can help organizations prepare for mildly—or wildly—disruptive business environments.
Thus, it comes as no surprise that enterprise planning platforms with simulation and scenario-modeling capabilities are extremely powerful tools for modern-day FP&A teams. However, while simulations and scenario analyses are akin to two branches on the same tree, they do operate with slight differences. Simulation capabilities allow users to model complex business environments without a need for the environments to actually exist. Simulations can model vast amounts of internal and external data and assess the impact of business drivers on forecasted results.
A scenario analysis is similar to a simulation; however, its analysis focuses on the business performance affected by each event or market condition. Scenario analyses, or "what-if" analyses, allow an organization to explore the outcomes of specific conditions to understand financial and operational impacts. FP&A teams can leverage this capability to understand how sensitive their business model is to fluctuations in different drivers.
How do you know what you don't know?
Scenario analysis capabilities can offer many benefits to finance teams and the wider organization. This type of analysis can help move beyond an ordinary, more limited planning process into an advanced process that harnesses technology to explore, predict, and plan for uncertain market environments. In fact, here are three value-added benefits that scenario analysis capabilities can provide to FP&A teams:
They can help finance teams thoroughly understand different business drivers. Performing scenario analyses helps finance teams uncover and identify drivers with the highest impact on change and business performance. These drivers can also give teams better insight into historical, one-off business performance issues or recent and progressing trends.
They can stimulate more insightful, collaborative conversations. FP&A teams with a strong scenario analysis process can leverage it to increase collaboration with non-finance departments and internal stakeholders. For department meetings, especially, scenario analysis can help steer the conversation away from "thinking" and "feeling" to knowing what the likeliest data-driven outcomes will be.
They encourage FP&A teams to prepare for an uncertain future with certainty. By developing and test-driving a broad range of possible outcomes, organizations can evaluate the effects of fluctuating business drivers—as well as uncover the sequence of events that would ultimately produce each outcome.
Let's face it: It's impossible to predict with absolute certainty what the future has in store for an organization. However, for FP&A teams, today's latest planning technology can provide the ability to leverage scenario analyses to help lessen the insanity of—and virtually prepare for—any potential realities that loom on the horizon.
Hear the FP&A team at Genoa Healthcare talk about how they make better business decisions—faster—with the "what-if" analysis capabilities of the Anaplan platform.