There's nothing better than going home after a long day at work, plopping down on the couch, and turning on the TV to unwind. But with grocery shopping, figuring out dinner, coaching Little League, and getting the kids to bed, many of us don't have much time to just sit back and relax—so when we get the chance, we savor every moment we get with our favorite TV show. Most of us don't really think too much about how the latest episode of "Dancing with the Stars" makes its way onto our screens. Fortunately, Dish Network, a leading direct-broadcast satellite provider, puts a lot of thought into making our TV-watching evenings relaxing and smooth (so we don't have to). At Hub17, Anaplan's annual global user conference, Dish shared the extensive
supply chain planning
needed to create and deliver its receivers. With over 13 million subscribers across the United States, the company's goal is to maximize inventory utilization by accurately forecasting the replacement rate for receivers, the number of specific replacement parts (e.g., hard drives and motherboards) it needs, the cost of replacement parts, and other details. Ultimately, this involves over 10,000 SKUs.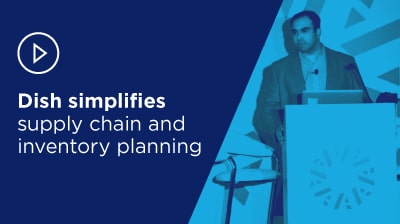 Sid Powar, Senior Supply Chain Manager at Dish, spoke about the challenges of supply chain and inventory planning before the company implemented Anaplan. "We had too many spreadsheets that were not linked together," he explained. In fact, Dish surveyed its planners across multiple sites and found that over 500 spreadsheets were in use—a nightmare, since the Excel tool was slow to open, prone to crashing (and losing data in the process), and unable to scale with the needs of the business. So Dish implemented Anaplan—and the benefits were substantial: Planners can now measure forecast accuracy for multiple time periods, quickly perform "what-if" scenario planning, and easily add or modify products to the inventory. They also now have end-to-end visibility into the supply chain and can continuously improve existing processes with real-time data. Curious to learn more about how Dish Network streamlined its supply chain planning processes? Then join Dish and Anaplan at the
Gartner Supply Chain Executive Conference
in Phoenix, Arizona, from May 23–25. Sid will be presenting on Thursday, May 25, at 8:00 – 8:45 a.m. in Grand Canyon 8. You can also
schedule a meeting
with Anaplan at the conference to learn how the Anaplan platform addresses the challenges of the modern supply chain by connecting data, people, and plans across the business. Or simply stop by booth 208, located in the Grand Saguaro Ballroom.