Trade promotion planning: CPG has data, but are they using it?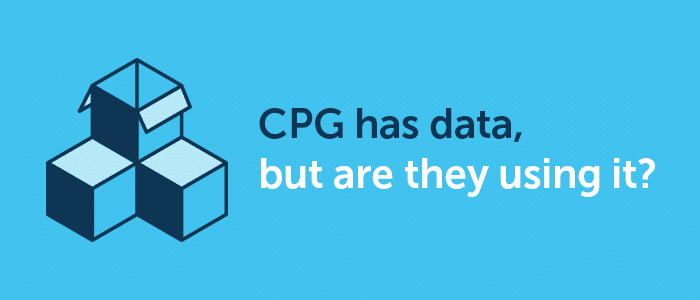 Consumer packaged goods (CPG) and retail companies have invested heavily in technology solutions to boost their trade promotion performance, but many lack the talent or business processes to capitalize on these investments. In fact, one of the biggest challenges we hear from CPG and retail companies is: How can they leverage meaningful insights from the large amount of trade promotion data in their businesses?
Plenty of data, but what to do with it?
A survey conducted by Accenture found that 6 in 10 executives at CPG companies believe their technology investments have produced a wealth of data that can help improve trade promotions; however, they lack the talent needed to put the data to its most effective use and boost return on investment. Furthermore, the survey points out that:
Two-thirds have switched more than one quarter of their trade promotion spending to digital channels
56 percent rated predictive analytics as being very desirable or the most desirable way to improve trade promotion efforts
And 28 percent believe their trade promotion performance to be either "totally ineffective" or in need of significant improvement
So how can you improve your company's promotion planning? We believe a mature trade and promotion planning solution for CPG and retail companies should have the following three capabilities:
1. Real-time collaboration and visibility
Companies should strive to enable or increase collaboration across departments for effective promotion plans and provide visibility into how dollars are spent against strategic initiatives, customer segments, and product SKUs. Visibility across departments, activities, and channels ensures promotion spend
maximizes net sales and increases gross margins. Real-time collaboration among multiple operational teams ensures alignment across the company.
2. Ability to measure success with insightful analytics
The solution should be able to leverage deep analytics to measure performance of promotions against sales—ensuring the highest-performing campaigns and activities are identified while low-performing campaigns are optimized. For example, brand managers and sales planners should be able to share campaign analytics across geographies and departments to provide better insights into deal mechanics. This will maximize the return of each promotion dollar across different retail channel and activity types.
3. Provide trade promotion planning optimization
Plan optimization is the ability to continuously optimize promotion dollars based on real-time insights from field-level managers. A solution must scale to handle granularity of detail at the field-manager level and must update instantly across all areas of the business on-the-fly, based on information coming from those managers.
It's not enough to just manage your trade promotions—to get the most value you have to be able to optimize them at every level, something that wasn't possible with the technologies of the past. Now is the time to look at a cloud-based trade and promotion planning solution that enables real-time collaboration and visibility, delivers the right insight at both a granular and global level, and allows you to continuously tune how you spend your trade dollars.
To see how Activision uses Anaplan Trade and Promotion Planning to provide transparency of spend across all their key dimensions, read the case study.
For more information on Anaplan's Trade and Promotion Planning app visit: https://apphub.anaplan.com/trade-and-promotion-app.html