Zero-based budgeting meets rolling reforecasting in Anaplan
The disco hit, "The Only Way Is Up," would be my choice for kicking off any conference on the subject of zero-based budgeting (ZBB). It is an uplifting song that everyone knows and the chorus perfectly sums up what ZBB is all about; namely, building the budget from the bottom up rather than extrapolating past-year trends. ZBB has been around longer than the song and longer than when former President Jimmy Carter promoted ZBB as the preferred way for preparing the state budget. Well, according to McKinsey & Company, ZBB is on the way up too—enjoying a renaissance as an effective way of keeping sales, general, and administrative (SG&A) expenses in check.
What's so good about zero-based budgeting?
ZBB encourages a structured discussion about costs
Starting from zero is just one part of the process. The others include having the C-level executives set some aggressive top-down expectations and structured negotiations based on current performance and internal and external benchmarks. Pairing each P&L owner with a more senior buddy who has a wider view of organizational costs also helps to stimulate an ongoing dialogue on cost management.
ZBB makes people accountable
With ZBB, budget holders have to present a compelling argument why they need resources and funds so they become more accountable for their budget. It is an obvious step towards adding a performance target for cost management into their personal objectives—alongside others for growth and profitability—the only proviso being that managers should not be targeted for costs, such as chargebacks, that are beyond their control.
ZBB forces managers to focus on cost drivers
Calculating what is an appropriate amount to budget for variable line item expenses, such as labor costs and freight charges, requires a deep understanding of the operational drivers of those costs. In fact, zero-based budgets share many of the same methodologies as driver-based budgets—something we have previously written about in, "Zero-based budgeting and driver-based budgeting—more in common than their names might suggest?" Incorporating business rules that reflect how changes in demand drive resource requirements and variable expenses helps foster a deeper understanding of cost so that managers can make more informed decisions about how to control them.
What results can you expect?
In addition to McKinsey, another proponent of ZZB is our partner Accenture. In a recent CFO.com article, they mention successful implementations where a consumer goods company was able to save $350 million in SG&A expenses in its first year of implementing ZBB. And earlier this year in a Wall Street Journal article, beverages giant Coca-Cola announced that they too had adopted ZBB and were targeting cost savings of $3 billion by 2019. Savings like that have a major impact on earnings, so it is easy to see why ZBB is again making headlines.
So how does ZBB fit in?
There will always be a requirement to manually enter line items for certain fixed and discretionary expenses. But many of the line items that make up a zero-based budget are derived from other aspects of enterprise planning including sales planning, demand planning, and even project planning. Hence, we should always remember that any resulting expenditure and investment should be scrutinized in exactly the same way. But how? Think rolling zero-based budgeting.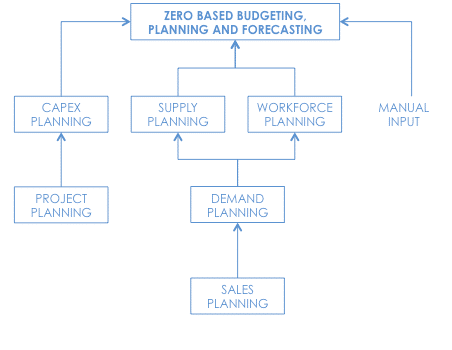 The diagram above shows one way in which a zero-based budgeting model could be incorporated into your enterprise planning process. Being able to write simple formulas to express dependencies between planning models is key, so you can quickly adapt them to your specific requirements. With the planning apps available in the Anaplan App Hub you can do just that. What's more, the Anaplan platform runs in real time so that changes to any model immediately flow through to dependent line items in other models. This capability, combined with easy-to-manage business rules, is what underpins rapid, rolling reforecasting. So effectively, Anaplan provides zero-based budgeting and rolling reforecasting as a single solution.
The resurfacing of zero-based budgeting is a good thing, and one I'd encourage companies to take a look at. As the song says, "The only way is up." So check out Anaplan—and kick your budgeting and planning strategy up a notch.
Topic: Zero Based Budgeting