Business Leadership Lessons from Coaching Girls' Basketball
Although most people know me as a business executive, one of my favorite roles (besides those of husband and father) is that of coach. For 17 years, I had the honor of coaching the Georgia Southeast DeKalb Lady Eagles, a travel basketball club comprised of schoolgirls, grades 4-12. Although I coached three different teams from 1990 through 2007, there was one core team that stayed with me for 6 consecutive years. I stay in touch with many of those young women, not because they still need a coach, but because I continue to learn so much from them.

Now, with a name like Victor, you can imagine that I am rather passionate about winning. However, I began to grow as a leader when I allowed my focus to shift from merely "getting the win" to a philosophy of "working together to succeed." By taking my eye off the scoreboard, as it were, and instead concentrating on helping to develop the player as a whole, I began to see my girls in a new light. I credit those amazing young women for helping me become a more dynamic business leader.
All these years later, I keep several team pictures on my desk. They are positioned within my line of sight to remind me that success in today's business environment—as in coaching—requires leaders be adaptive and agile.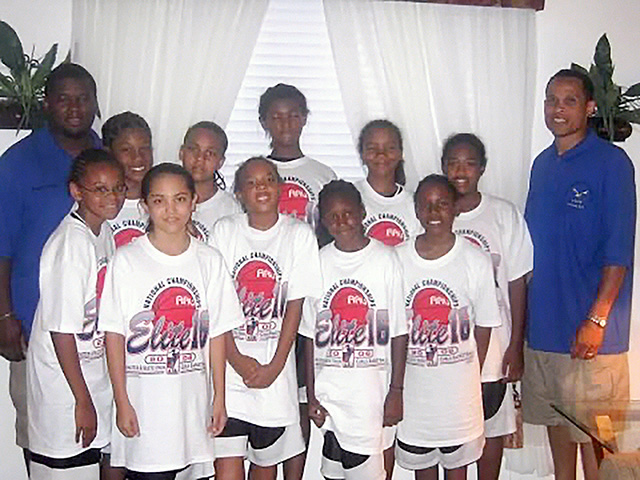 Now, if you look closely, you will see there are clear connections between business and basketball. They are both competitive practices that require multiple people, of varying capacity, to develop a singular sense of connectedness through communication, focus, discipline, and strategy. Accomplishing this with a well-compensated group of professionals is hard enough but doing it with a team of pre-pubescent girls is an endeavor that will undoubtably test your spirit. Honestly, nothing in my 30-year professional career or my MBA training has challenged me more as a leader than coaching girls' basketball.
The challenge was not they were girls, it was that I had never tried to manage a team that was not inherently motivated by either money, status, or power. The only thing at stake here were bragging rights. So, I had to find a different way to connect with them on a different level. Some girls were on the team because their parents made them play, others were passionate about the sport, but had little skill for the game, and then there were those who were there because they had nowhere else to be. So, in cooperation with their parents, I taught the girls how to collaborate on activities off the court. By participating in neighborhood and school clean-up projects, as well as learning life skills, such as dining etiquette, we created common experiences. These activities, while having nothing to do with basketball, created a genuine bond.
Over time, my young players came to rely on each other and on me.  The trust that developed between us is what allowed them to believe me when I told them they had the ability to bang the boards and drive harder down on the court. Suddenly, I was not just a guy who wanted to chart a win. I was their coach, a man who genuinely cared about them. And for that, they rewarded me by exceeding my wildest expectations, finishing 13th overall in a national tournament where we competed against 140 teams from 48 states.
I gave up coaching basketball when I began my MBA program at Northwestern in Chicago (Northwestern). However, as I advanced in my business career, I chose to maintain my relationships with the girls from my basketball coaching days. They are all amazing young women now and I am proud to see how many of them have found their own career success. Former player Jewel May, is now a human resources consultant, Bria Janelle, is a media personality and an arena host with the WNBA's Atlanta Dream, and Le'Andra LeSeur is a visual artist whose work explores issues of race, gender, and identity. Each has helped shape who I am today as a business leader and for that I am incredibly grateful.