3 Actionable Ideas for Improving Your Sales Onboarding Process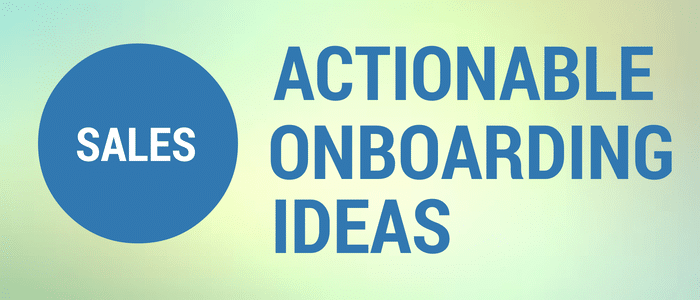 Think about the last four jobs you've started.
How many had a structured first day – filling out your paperwork, getting your laptop set up, maybe even coffee and a muffin? Hopefully at least one.
How about after that? Did you get a structured first week learning about the company's goals, meeting key leaders, understanding history, products, functional areas? Maybe.
Did one of those jobs give you a 90-day plan with measureable goals and a place to track your progress against those goals in real time? Research says: not likely.
We're no different. It's no big secret we're in hyper-growth mode here at Anaplan. We're hiring left and right (averaging about five new people globally per week!). It's hard to keep up! So we're running hard to onboard, and we've been task analyzing and building a global sales onboarding program that will not only keep our heads above water, but will also give our new sales hires a metrics-based, 90-day structure which puts them on a path to knowledge, practice, and activities all aimed at achieving quota attainment in half the time it currently takes.
We're really proud of the process we're launching, but it was not an easy nut to crack (which is perhaps why only 32% of companies do it.) It seemed a great time, then, to reflect on some lessons learned. Why is this so hard, and what did Enablement learn about Sales Onboarding that we'd share as best practices going forward?
Start at the end – ask about outcomes
One of my favorite ways to throw a wrench in learning initiatives is to start from the end. In sales, the most compelling way to make that happen is to ask about outcomes. I enjoy working with Sales Enablement because they are so close to business objectives. Sales Onboarding was an easy case to start with key metrics in mind and work backwards from there. If we establish the outcomes we want from the sales force first (we want them to sign their first deal before their guarantee runs out, let's say), we now have a highly measureable business objective (visible, tangible, everyone's already paying attention to it). Now, the tough question: what behaviors get me there? What tasks does a new sales executive need to master?
Don't try and reinvent the wheel for onboarding
Let's be real – I've never carried a quota. So, a big a-ha moment for me was this reality: in order to be a really skilled sales executive, you can't be a specialist. Instead, you have to sample from everyone's job. In that vein, the traditional job task analysis (what do you need to do your job, and how can I teach you to do it?) just doesn't work. Ask, "What do you need?" of sales all day long, but it may never take. When I finally got tired, I started writing everyone else's onboarding plans. And then, when I went back to sales – lo and behold – I had the data to build sales onboarding plans. Lesson learned? Sales is an increasingly complex discipline, and it will eat months of your time trying to analyze the job. Skip the old-school method and instead, beg, borrow, and steal from the other roles you onboard in your organization. You're looking for that well-rounded consultative sales executive anyway, right?
The key to a great plan is the plan itself
Alright! Metrics defined, behaviors (finally) pinned down – the final best practice in our sales onboarding plan is the plan itself. Here's the thing: Onboarding is like driving a car in a new city — you don't need a map, you need GPS. As an Enablement team, it's our job to make sure our new sales executives don't get lost. So we built an Anaplan App to help new sales people know exactly where they need to be on any given day. Any new sales executive can log in to a dashboard and see if they are ahead of or behind plan, who to go to with concerns, links to get to learning resources, and how far to their next milestone and their ultimate destination.
What is your greatest challenge when onboarding the sales team? Let us know by leaving a comment in the comment box below.