3 fundamentals of connected planning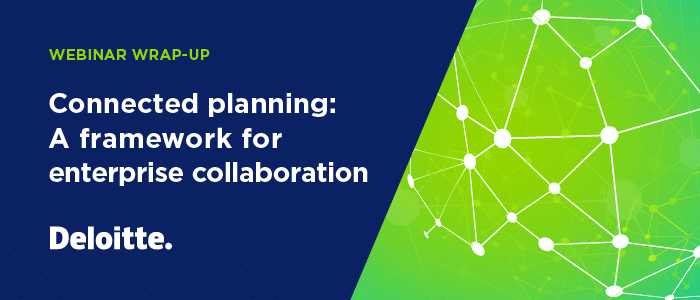 In a previous blog, we suggested that sales and operations planning (S&OP), integrated financial planning (IFP), and integrated business planning (IBP) are all just different perspectives on the same process. And when it comes to improving planning, the most important thing is to start making the connections. This is also a mantra followed by Ron Dimon, Managing Director of Digital Finance Technology at Deloitte Consulting LLP. In a recent webinar, Ron shared three fundamental principles that underpin a connected planning framework.
Connect your strategic objectives with your day-to-day execution
To achieve their financial objectives, some companies prioritize revenue growth while others focus on better asset utilization or workforce efficiency. But no matter what a company's current strategy is, Ron explained the first and fundamental step in creating a connected planning framework is to ensure the business drivers underpinning that strategy are embedded in the financial and operational planning models used elsewhere in the business. That connects strategy to execution, which allows business leaders to have an informed debate about how quickly the strategy can be implemented and how best to go about it.
So, for instance, for a B2B business that is intent on rapidly growing revenue, some of the sales drivers that need to be explored and managed are headcount, productivity, and win rates. Collaborating and having an informed debate around data-driven models help business leaders understand whether a strategy is realistic and achievable, what previously unidentified constraints might exist in the organization, and how best to translate top-down strategy into short-term tactics.
Connect your data to deliver decision support
Once the different types of enterprise plans are built out, and they incorporate strategically important financial and non-financial drivers across multiple dimensions (such as product group, geography, and channel), a company is likely going to generate a lot of data. So Ron says the second imperative of connected planning is to use self-service reporting, dashboards, and predictive analytics to turn raw data into actionable insight. That way, people can better understand the root cause of variances and what the future might look like if current trends continue.
Doing this can make an organization smarter about managing the business and answering questions such as where to allocate scarce resources and how best to fix problems. But it may require a real-time planning platform that allows users to quickly manipulate the large volumes of data involved to create new scenarios and "what-if" models—a topic discussed in detail in "The blueprint for connected planning and decision-making."
Connect your users and processes
Ron says that many of the organizations he has worked with over the years already do some aspects of connected planning, such as using business drivers in planning models. Problems arise, he suggests, because most of their processes use disparate spreadsheets or standalone systems. As Ron points out, companies get better governance when everybody works with the same data and master data, and they often benefit from a common workflow for submissions and approvals when they have an entire ecosystem of interconnected plans. Connected planning brings it all together by connecting users and processes on a single platform.
Ron explained there are additional potential connections to make, such as having outside constituents like suppliers and channel partners participating in real-time supply chain planning. He finished his presentation by suggesting that the whole shift to connected, real-time planning is taking off and that many of his clients are intent on getting there fast.

Connected planning: A framework for enterprise collaboration