3 Reasons Why Anaplan is the Best Solution for Finance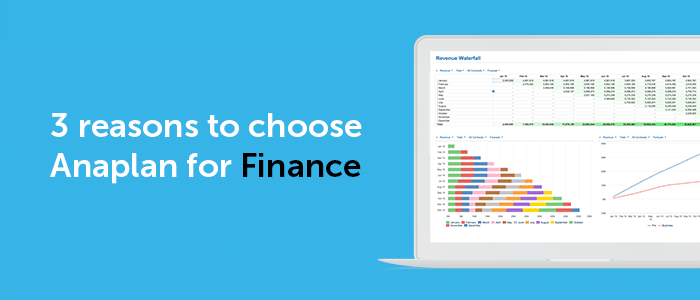 Towards the end of 2015, analyst group IDC announced that a third of all enterprise spending on technology is now invested in cloud-based systems, with Finance (and all other departments) looking to replace legacy solutions and create new capabilities with cloud planning. If you are a finance user, you will no doubt be looking to quickly reduce any current over-reliance on spreadsheets and evolve your core financial processes to make them fit for purpose in these uncertain times. However, there are an increasing number of financial solutions available in the cloud and it pays to carefully evaluate whether a solution will really improve insight and agility – or whether it's just the same silo-ed functionality you had previously now delivered as a subscription offering.
One of the key questions to keep in mind as you go through the selection process is, "Is this solution really different?" And to give you some examples of what you should be looking for, here are three things that we think make Anaplan stand out:
1. Anaplan is a transformational enterprise platform
Unlike other enterprise performance management solutions which tend to stick with finance, Anaplan is designed for planning and modeling in for all departments. Many of our customers start with a single department solution and then extend into other lines of businesses, using our rapidly growing range of best-practice apps for Sales, Marketing, Operations, HR, and Supply Chain. This results in a win-win situation; the business function gets the solution it needs and Finance gets a more accurate picture of the organization by linking operational and financial plans. You can see how changes in other parts of the business, such as sales forecasting updates or a hiring ramp-up, impact the P&L, balance sheet, and cash flow, all in real time.
Even the way we deliver in-memory planning is different. While some vendors use off-the-shelf in-memory computing or calculation engines designed for the simpler requirements of analytics, at Anaplan we developed our own in-memory, Java-based planning engine, which incorporates patented Anaplan Hyperblock™ technology specifically optimized for planning. That way, you get scalable in-memory technology that can handle trillions of planning cells for thousands of users across multiple models, which is exactly what you need if you are working towards fully integrated business planning.
2. Anaplan offers plans truly owned by the business
You can create models, modify them to stay aligned with any organizational or market changes; and create new scenarios—all without help from IT. You can develop your own solutions, giving you the agility you need to accommodate change and develop "what-if" scenario models, while driving down the cost of the finance function. But don't just take our word for it; invite us in and have some of your finance team work with us to deliver a proof of concept model as part of your evaluation process. We are confident that you – and they – will be pleasantly surprised.
3. Anaplan delivers rapid time to value
All cloud solutions put an end to the hassle of hardware and software installations and the cost of upgrades. But in many instances, the underlying architecture of cloud-based EPM solutions was designed for financial accounting & budgeting rather than business planning So, once you lock in your chart of accounts, legal entities and departments, you are stuck. Therefore, they must be carefully designed and built according to a strict waterfall methodology, specialist skills are required and implementations tend to take longer. By contrast, Anaplan's flexible data architecture and built-in intelligence means implementations can be rapid and iterative, with changes and enhancements being made at any time. This also helps you adapt rapidly when your business changes.
Explore the future of decision-making in finance with Anaplan