4 ways to ensure your FP&A processes support your business strategy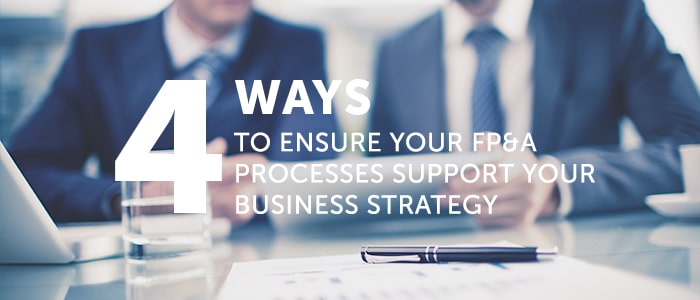 You know the business world has changed when academics add "harshness" (aka, can I survive it?) to their list of criteria to consider when developing a strategy. This is exactly what Boston Consulting Group's Martin Reeves and his co-authors did in their new book, Your Strategy Needs a Strategy. By adding "harshness," to the more traditional considerations, such as "predictability" (can I forecast it?) and "malleability" (can I and others like me shape it?), they identified five core strategies that are more aligned with the challenges of today's changing markets and economies. The core strategies can be summarized as follows:
Be big with the traditional goal of becoming a major player, like most oil companies strive to be.
Be first by following your vision, just like the majority of cutting-edge technology companies.
Be fast by changing, as needed—something successful fashion retailers are good at.
Be an orchestrator by shaping your market the way the more successful social media companies do.
Be viable by reinventing yourself like some of the early cellphone manufacturers and unlike many financial institutions.
Although the majority of executives interviewed by the authors understood the need to employ different strategic styles in different circumstances, most were still following traditional strategies ("be big" or "be first"), which the authors say are not always the best approaches in unpredictable times.
Inadequate planning and forecasting capabilities constrain strategy
The authors also found that many executives recognized the importance of building agile capabilities and fast planning cycles required to address unpredictable environments. However, less than 20 percent of executives reported agile planning, 70 percent said their company placed more value on accuracy than on the speed of decision-making, and nearly 90 percent said they still develop plans on an annual basis, regardless of the actual pace of change in their business environments.1
Put succinctly, although planning and forecast capabilities are essential for driving strategy and performance, in many instances, they are actually preventing companies from following their strategies. So what can be done? Below are four recommendations to break through this deadlock.
Separate your FP&A and external reporting cycles

Although senior executives and boards need to adhere to quarterly and annual financial reporting, that does not mean that financial planning and forecasting cycles should follow this rule. In fact, if you are trying to be agile or first to market, planning and forecasting needs to become more iterative with rapid rolling reforecasts that can be completed in a matter of days—something we have previously written about here.

Balance accuracy against cycle times

In unpredictable or dynamically changing times, the over-zealous pursuit of pinpoint accuracy in planning sometimes can be detrimental since adding extensive detail in account planning typically extends cycle times more than improving accuracy. A better approach may be to build dynamic planning and forecasting models that incorporate external business drivers. Such models tend to be more accurate and considerably faster to reforecast, giving the right level of FP&A process that an agile or first-mover company needs. In addition, because these plans contain operational data alongside the more traditional line item data, driver-based models provide deeper insight into costs, which benefit any companies struggling to survive while they renew themselves.

Work towards integrated business planning

Developing dynamic planning models inevitably leads to linking outputs of sales and operational planning with financial planning to deliver "integrated business planning." In the past, this faced a lot of resistance as large volumes of customer and product-level data overburdened legacy planning systems. However, the advent of scalable, real-time planning platforms, such as Anaplan, that allow enterprise data to be seamlessly share between models makes this long-held vision a practical reality. And remember that it doesn't have to happen all at once—the "app" concept of today means that companies can start with one area and gradually connect plans across the business; in other words, think "gradual" integrated business planning.

Allow for local flexibility

Developing an FP&A process that is better aligned with your company's strategy and the predictability and malleability of your markets will bring considerable benefits. However, various business units may well operate in different subsidiary or geographic markets that are more or less predictable and malleable than the industry at large. Such businesses need to be allowed the freedom to tailor planning models and cycles to their own specific requirements. New apps on the market today are letting companies take this "distributed" approach that truly allows for planning at different levels of detail across local, regional, and corporate business units, with reconciliation of rollups at corporate.
Your Strategy Needs a Strategy suggests that many companies are prevented from pursuing and executing appropriate strategies due to inadequate FP&A capabilities. But the pursuit of revenue growth will inevitably lead companies, including those satisfied with their current planning processes, into new markets where they may still be lacking. That is exactly the experience of Zalora—a rapidly growing online retailer that needed a single planning platform to incorporate all types of data and match the dynamism of its fast-moving e-commerce business. Watch co-founder and CFO, Cooper McGuire explain why Zalora chose Anaplan while paying close attention to the ideas you read above.
1Reeves, Martin; Haanaes, Knut; Sinha, Janmejaya. Your Strategy Needs a Strategy: How to Choose and Execute the Right Approach. HBR Press: 2015.