4 ways to handle unrealistic sales targets and goals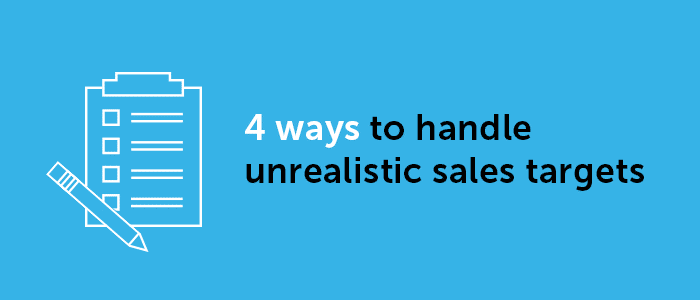 To the uninitiated, sales might appear like an easy career option. First, there's the client schmoozing, then there's attending swanky events, and to top it all off, salespeople all make boatloads of money, right? Not quite.
Anyone who has ever worked in a sales environment will know how much of a misperception this is and will be happy to share just how difficult it is to be a successful sales rep. The commonly used performance-based pay structure (low base pay combined with "incentivizing" commission opportunities) means that reps have little choice but to work hard to meet their targets or face a lean month. But what happens when targets seem unachievable? How should sales reps handle unrealistic targets and goals?
1. Keep calm and…
As humans, our instinctive reaction to anything that threatens our job security or earning potential is to worry about it. Not hitting your target for a month can be considered an indication of inadequacy.
However, the first step to managing the situation is not to panic. You've identified an issue you need to resolve. Now, there are several steps you can take to improve it.
2. Adjust your approach
Depending on what and how you sell, fine-tune your approach. If you are in telesales involving lots of cold calls, monitor what time of the day and which day of the week the most fruitful calls occur. Make your calls in accordance with this information, and see your numbers start to stack up.
If you are in direct sales, invest in leveraging all channels including social media to build in thorough account information. Consider subscribing for the prospect company's press releases and announcements — you will be surprised by the actionable intelligence you get out of this.
Lastly, if you are in indirect or channel-driven sales, build a business case for additional budget and invest in targeted demand generation programs with your channel.
3. Assess your working practices
Is the way you work hindering your chances of meeting targets? Are you using all your social selling tools? Are there any changes you could make in your processes that would increase your productivity?
For example, perhaps it's time to get more organized regarding having a clear agenda and updated deck for your appointments. Or try working at different times of the day to achieve more.
4. Speak up
If you've taken a hard look at your processes, worked to optimize your timing, and your targets really are unattainable, then it's time to speak to your manager. Before you do so, it's a good idea to put a business case together to demonstrate what you think is causing the problem — whether it's the head office's misguided notion that the targets will motivate staff or just a lack of business opportunity in your patch.
Emphasize the steps you've taken to turn this issue around and ask for them to reconsider the goals. You may well find that fellow reps are having the same problems but haven't spoken up.
Regardless of the reason and frustration behind having an unrealistic sales target, try to approach the conversation with a sound effort and explanation. And if it's the tools that are lacking, take a look at our territory and quota planning demo that helps leading sales organizations define accurate quotas and targets for each rep.
Confidently choose the best path to hit your sales targets — every time.