Anaplan App Hub: Your premier destination for planning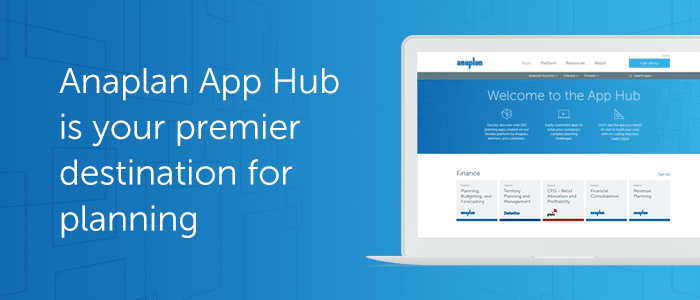 What if we told you that a place exists where high productivity and fast planning are fueled by data and unlimited apps that span all departments and industries?
Well, it does! The refreshed Anaplan App Hub is the premier destination for planning and a community for Anaplan customers and partners. With new intuitive navigation and rich engaging content – videos, case studies, and feature details, the App Hub's new design makes it easy for users to find everything they need to find, learn, and sample apps to kick start planning and be successful.
With over 100 apps, which can be downloaded in just one click, there is something for everyone—whether you are looking to optimize your sales territories or reduce your budgeting lifecycle. Visit the App Hub to:
Discover the right apps for you—fast
The redesigned App Hub features better navigation and robust guides to help you find the right app for your needs. Explore the benefits and capabilities of each app to find the best match for your team. Review detailed case studies, datasheets, videos, app stats, and additional information on Anaplan services for your line of business. Take the App Hub tour.
More apps, more productivity
Get ahead and save time by leveraging pre-built apps to grow your business faster and increase productivity. Here are 10 new apps to help you get started:
Finance and HR
Sales and Marketing
Supply Chain and Operations
IT
And don't forget to try the Supply Chain Beer Game app for fun!
Share, learn, and engage
Customize apps to meet your specific business needs or build your own and share them on the platform. Community apps feature the best-in-class apps built by our customers, partners, and industry leading planning experts.
Check out the newest Community app: Clinical Trial Planning
And enrich your App Hub experience when you:
Share: Strut your stuff on the App Hub! Position yourself as a leader in your space and showcase your best practices by sharing your app.
Learn: Browse the App Hub for ideas on how to dynamically transform your organization.
Engage: Activate apps in one click and leverage the expertise of the App Hub Community to innovate and drive your company's performance.
There's no better way to run your business. Discover and get any app in just a few clicks in Anaplan's App Hub.
Got a great app? Get involved in the community today. Submit it here!