Anaplan at AFP: Learn how to expedite your planning cycles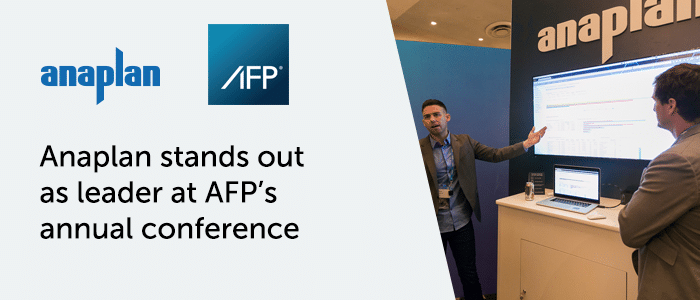 How have you broken boundaries recently? This year's Association for Financial Professionals (AFP) Conference is focused on breaking boundaries—and Anaplan has broken a boundary lately. We are proud to announce we were recently named a leader in the Forrester Wave™ Enterprise Performance Management, Q4 2016, and we are excited to showcase the strides we have taken in finance since the last AFP conference.
Attend our session to learn how to expedite your planning cycles
Anaplan's VP of Finance, Emily Weigand, and Finance Product Line Leader, Meredith Hobik, will be hosting a session, "Expediting the Planning Cycle." During this session, Emily and Meredith will discuss how the fast pace of business requires finance teams to transform the way they operate. They will discuss how new technologies is enabling teams to optimize their operational plans, solve complex problems across the business, forecast accurately, reduce planning cycle times, and drive the future growth of their companies. Business leaders then can spend their time focusing on strategic decision-making rather than operations. Emily and Meredith will also share how Anaplan has structured its internal planning process to accelerate the company's rapid growth.
Join our lunch with author of Information in Beautiful
Additionally, the Anaplan team will be hosting a lunch with David McCandless, author of Information Is Beautiful. David is well known internationally for his work on visualizing ideas, issues, knowledge, and data. With clients ranging from Google and Visa to the UN and Friends of the Earth, he has a wide range of experiences finding stories in a sea of data. At this lunch, we look forward to offering FP&A professionals the opportunity to learn from David and network with each other.
We look forward to seeing you at AFP—be sure to stop by our booth and plan ahead by scheduling a meeting now to meet with Anaplan at AFP.
And as your prepare for the conference, learn more about Anaplan by checking out one of our weekly finance demos.