Anaplan Founder Earns Cloud Industry Recognition
Anaplan founder and CTO Michael Gould has been named a finalist to receive the 2012/2013 Developer of the Year award from Cloud Awards, an organization that recognizes excellence in the field of cloud computing. Gould is primarily responsible for development of Anaplan's innovative cloud software, which has redefined how enterprise sales and finance organizations model and plan their businesses. The winner of Developer of the Year award will be announced by Cloud Awards January 15.
Cloud Awards is a premier international cloud computing awards program which recognizes and honors industry leaders, innovators, and organizational transformation in cloud computing. The awards are open to large, small, established, and start-up organizations, to find and celebrate the pioneers that will shape the future of the industry as it moves into 2013 and beyond. Finalists are selected by a panel of international industry experts. Past Cloud Awards winners have included Birst, Mulesoft, StrikeIron, and Zerto.
"The standard of entries this year was truly incredible – and we're still scratching the surface of what the cloud is capable of," said Cloud Awards organizer Larry Johnson. "Efficiency, agility, and an ability to leverage all of the positive attributes of cloud technologies are what set the organizations in this shortlist apart from any other."
Anaplan software takes the complexity out of sales and financial planning. It installs in days, analyzes data from the highest levels to the most granular details, and is cloud-based so users can collaborate in real time from anywhere using any Internet-connected device. Gould has 25 years' experience in designing software architecture, including two decades working with enterprise performance management systems. He was the lead architect in the design of the top multidimensional modeling tool of the 1990s, which Cognos acquired.
"This is a great honor for Michael and Anaplan," said Frederic Laluyaux, president and CEO at Anaplan. "His work leading the development of the Anaplan platform, which is truly revolutionizing the way organizations operate and direct their businesses, is really paying off. Our goal is to build applications that business users can deploy without any programming experience. We want to widen the scope of people who can engage in organizational planning. We are proud of Michael's accomplishments, and those of our many customers."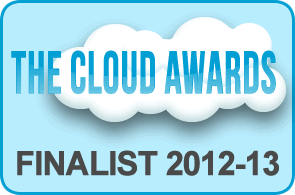 About Anaplan
Anaplan provides cloud-based planning and performance management solutions for operations and finance. The Anaplan Performance Cloud™ combines the agility of spreadsheets with the power of enterprise software. The platform enables people to intuitively model their business, derive insights, collaborate for better decisions, align operations, and execute processes in a single platform. Whether objectives are to reduce expenses, improve margins, accelerate growth, or other, results are immediate and impactful. Anaplan is funded by Granite Ventures and Shasta Ventures and was awarded Gartner Cool Vendor Award in 2012 and Ventana Research Technology Operational Innovation Award for Sales Management in 2012. To learn more about Anaplan, please visit https://www.anaplan.com or on twitter: @anaplan.