Anaplan named Best Tech Innovation for Commercial Real Estate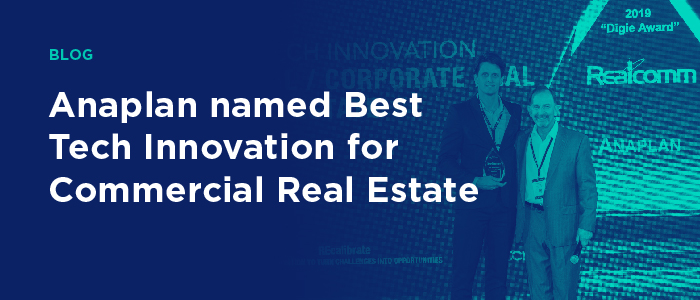 At the most recent RealComm conference in Nashville, Anaplan was awarded the 2019 Digie Award for "Best Tech Innovation Commercial/Corporate Real Estate" for pioneering the efforts of forward-looking analysis for commercial real estate and revolutionizing the way corporations look at collaborative planning. This represents a major achievement in a fast-changing industry. Anaplan attended RealComm with Lionpoint Group, our Gold partner who specializes in digital transformation within Real Estate.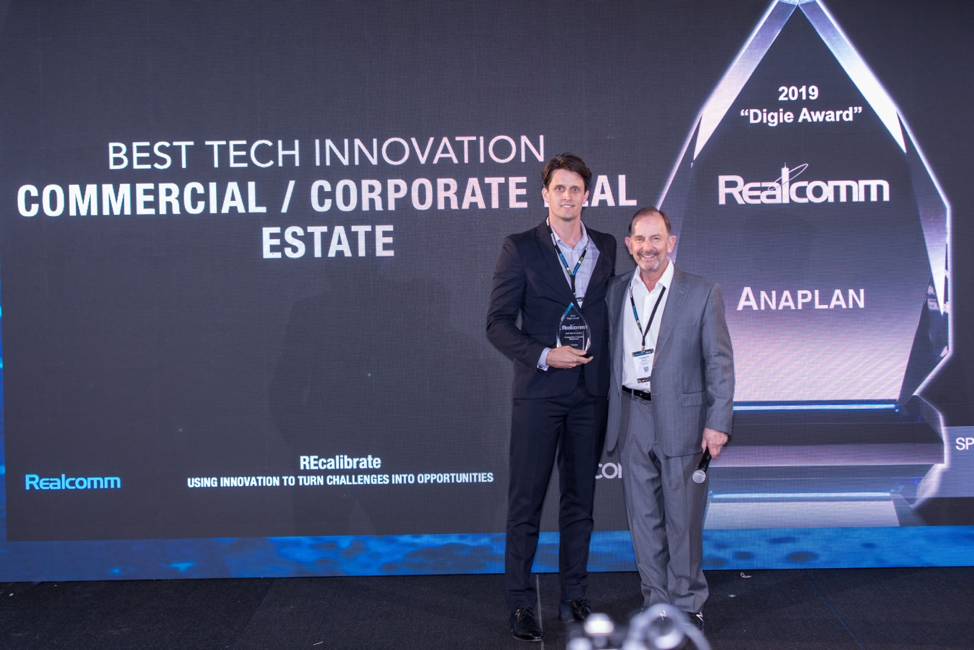 "With everyone in our industry working so hard, it is important once a year to recognize those people, projects, and companies that go above and beyond," said Jim Young, Founder and CEO of RealComm Conference Group. "Anaplan is one of those companies that is changing our industry through their vision and hard work!"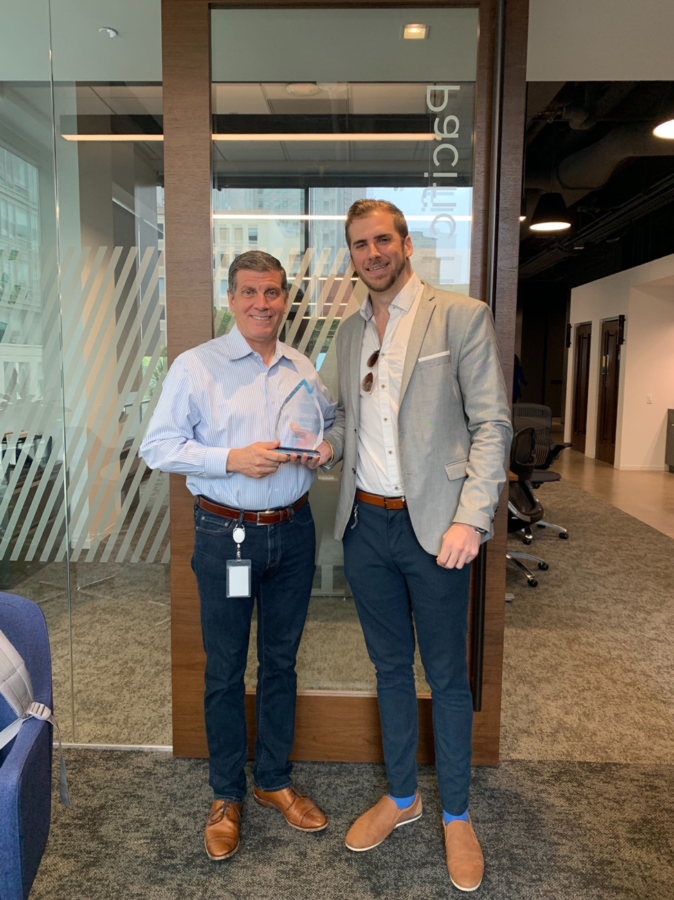 With this award coming from the esteemed real estate group, the following question is emphasized: What does Connected Planning mean to commercial real estate companies, and how are they using it to evolve and future-proof their businesses?
Transforming commercial real estate planning to navigate change
This February, the U.S. Census Bureau highlighted in its retail and food services report that online commercial real estate sales gained a slight edge over brick-and-mortar stores (11.813% versus 11.807%)—one of many major milestones that represent the scope and scale of online shopping growth. This ongoing shift in consumer behavior toward the convenience of online shopping impacts the wider commercial real estate industry. For example, it affects how specialty leases are structured in shopping centers, how flexible office space is weighted compared to traditional tenancies, and how investments are made with regard to warehousing demands.
To define, achieve, and sustain success, commercial real estate businesses need to approach how they balance portfolios differently than in the past, starting with a more holistic view of the entire supply and demand model across the omnichannel. This goes from unit-level budgeting and forecasting, through sector and geographic portfolio analysis, to corporate enterprise value, EPS, and complex allocations. For fund managers, it includes both a "bottom-up" aggregation of property forecasts to the funding level, as well as more strategic "top-down" drive-based scenario modeling and stress testing. To achieve this, many real estate businesses are looking to Connected Planning technology for more valuable insights and to achieve better decision-making.
From disconnected and sluggish to collaborative and real-time
In commercial and investment real estate, the trends of the past have already impacted business in the future. Institutional and personal investors are demanding more granular detail around their investments, and faster reporting turnaround with transparent calculations is quickly becoming the industry standard. This means that stand-alone point solutions, "black box" calculations with no transparency, complex tools that require specialized scripting, or custom spreadsheets with "key man" risk in the information chain no longer suffice.
With a Connected Planning platform, commercial real estate businesses can plan continuously and make decisions in real time. With a cloud-based architecture, collaboration is improved across the enterprise and planning processes are streamlined. Additionally, a Connected Planning platform leverages the input of artificial intelligence and machine learning technologies to facilitate rapid, ongoing planning while factoring in signals and drivers from both inside and outside the company.
What Connected Planning can do for commercial real estate companies
Market conditions continue to change at an increasing rate and they're showing no signs of stopping. For the commercial real estate industry, business leaders need to consider and plan for those changes in order to maintain positive cash flow, increase margins, make the most informed decisions, and report out quickly. This could be as simple as deciding if a below-market lease is the best longer-term decision for an asset or as complex as evaluating the optimal time to exit an investment and reinvest the capital into new opportunities.
The Connected Planning framework enables teams to run more meaningful, forward-looking analyses with "what-if" scenario planning that helps teams assess portfolio performance and how macro-economic changes could impact performance, margins, and even share price.
By engaging teams in a collaborative planning cycle—one that seamlessly connects bottom-up and top-down planning—business leaders can improve and gain more from company intelligence. Planning cycles are cut from months to days with far greater transparency and visibility into trends and outliers. Further, plans demonstrate thoughtful, intelligent, and meaningful analysis to help ensure that quarterly and annual results are achieved.
The commercial and investment real estate industries are the real winners with this enhanced focus on Connected Planning!
| | |
| --- | --- |
| Learn how Lionpoint helps real estate companies start their Connected Planning journeys | Learn more |