Critical questions for the sales compensation planning roadmap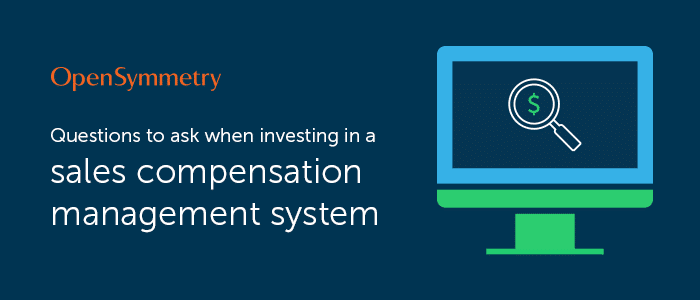 In our previous post, we discussed the ultimate "win-win" of integrating sales and finance for revenue alignment within your organization. However, it is no small challenge to develop a comprehensive, strategic vision for sales compensation planning, which requires an overarching roadmap touching multiple departments, including finance, HR, sales compensation, sales operations, and IT. As corporations invest, on average, 10 percent of revenue into their sales and marketing teams, driving the right sales behaviors is a significant priority. This means it is critical to ask the right questions to determine whether the investment of a sales compensation planning system would create a positive impact across all lines of business.
In order to ensure the long-term success of a sales compensation management solution, start with questions focusing on the overall vision and goals:
What are our top three business priorities?
What should the sales team be focusing on to meet these priorities?
How is the sales team acting in favor of these priorities right now? What needs to change?
Is our sales team able to respond quickly to changing market conditions?
What kind of visibility do we have into the selling process?
What areas need more visibility?
What behaviors are the current plans driving?
What is hindering sales force productivity?
With the answers to these questions in mind, the next step is to operationalize this vision for the sales team with enough research to determine the necessity and viability of a sales compensation management solution. In order to develop a framework for implementing this compensation management solution, some questions to ask may include:
Does the data exist in our business to determine how much each salesperson would be paid if different conditions occur? Where do we lack transparency?
What are the tools currently being used to implement our incentive compensation plans?
What information do we need to improve our sales forecasting process? Which sales compensation management solutions provide the necessary data analytics in this area?
How many man-hours are spent calculating incentive compensation? How many hours could we save with each sales compensation plan that we are creating?
How would a sales compensation management solution integrate with our existing systems? How much time and which resources would be necessary for an implementation?
Who within each department would be able to answer these questions?
As you consider the possibility of integrating the sales compensation process into your current technology mix, the ultimate question is, undoubtedly: How long before each line of business sees a return on investment? The answer largely depends on your company's specific situation and business priorities. However, at OpenSymmetry, we have found that the ROI impact is a much when businesses that have answered these key questions and achieved departmental alignment up front before the implementation of a sales compensation management solution. Intangible benefits across the company could include increased sales productivity and selling time due to more transparent incentive compensation plans, lower turnover because of more streamlined processes, and an increase in forecast accuracy.
Ultimately, when considering a sales compensation management solutions, it can be a substantial undertaking that requires buy-in from multiple departments that touch the sales process —certainly not a job for the faint of heart. The first brave step is to gain insight to the sales team's fit within the context of the holistic company vision, then ask these critical questions to determine whether a sales compensation solution would be the optimal investment with the goal of moving the organization down the path of long-term profitability. A challenge? Yes. A worthwhile calculation? Definitely.
For further discussion on sales compensation planning for your organization, join us at Hub London to hear how Anaplan and OpenSymmetry have established best practices and successful sales compensation plans at many leading enterprise organizations.
Keyword: Sales Compensation