Is your enterprise business planning forward-looking enough?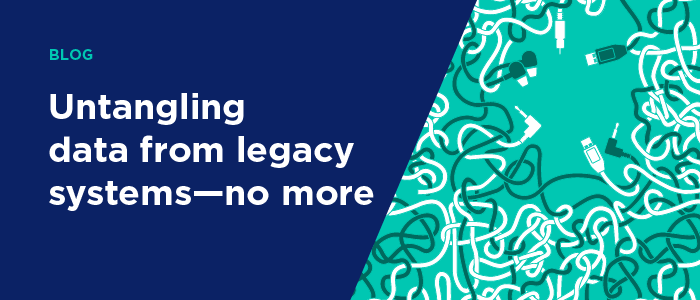 CIOs are often asked to simultaneously reduce and rationalize IT footprints and infrastructure while delivering greater value and insights as strategic business leaders. This is no small feat, especially if they inherited technology stacks from someone who moved on a decade ago. Their predecessors often made the mistake of investing their entire business planning strategy into standard ERP systems, not realizing what their decision meant from a cost, security, flexibility, and scalability standpoint or how it would affect their bargaining power in the future.
When it comes to enterprise-wide planning, many CIOs are starting to think outside of the box. They understand what their organization needs now, what it might need in the future, and what could be replaced with a more competitive and modern offering. In some cases, a complete shift to a different vendor seems to be the best answer, and they must evaluate the projected difficulty and cost. The most forward-looking CIOs are shifting their entire business planning process to cloud-based planning platforms with the benefits of scale and security, and no hidden costs.
The next step for CIOs: unifying corporate data under a single platform
To harness the power of innovation in technology without compromising any of their key priorities, savvy CIOs need a platform that brings data from anywhere in the company, analyzes and processes that data at a granular level, and connects the output as actionable plans for the right people at the right time. Such a system needs to be secure, flexible, scalable, forward-thinking, and continuously available.
A system should bring all of the corporate information together into one place—without keeping sharp firewalls up between sales and supply, for instance. Users can create plans across business functions, including finance, sales, human resources, and the supply chain without depending on IT or outside consultants to homogenize the data. Users can collaborate with each other to drive business success. This is called Connected Planning.
The false promise of traditional, disconnected planning systems
Large and standard-issue ERP systems are not able to provide this value. They claim to have an integrated suite, the best-in-class solution, and free or low-cost add-on software, but most of the time these claims are closer to myths than to the truth. They try to stitch together a number of planning applications, usually acquired through numerous corporate mergers that share very little technology in common. Each has its own data and metadata integration methods, automation language, calculation language, and workflow, creating a complex and disjointed technology stack. A team of administrators is needed on an ongoing basis just to build and maintain these connections. These solutions are often acquired to fit a gap in a company's suite or bring an answer to competition, but the solutions often don't work as promised, and potentially create risk or disappointment when it comes to security, flexibility, and scalability.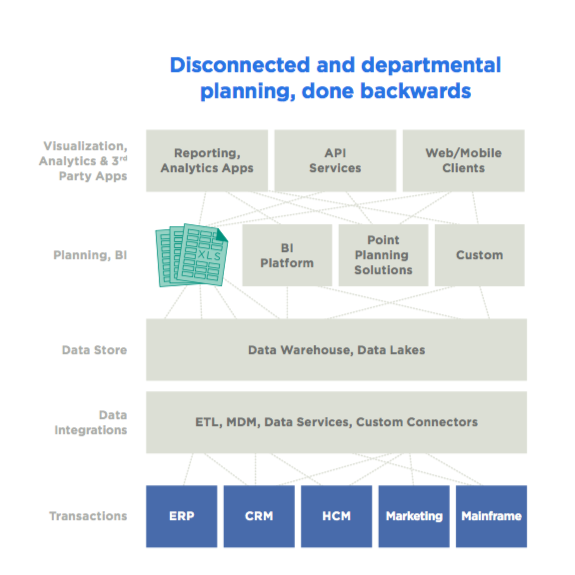 Using point solutions, ERP planning systems, or collecting and disseminating data by spreadsheets and email also creates a segregated view of planning, providing information only for a single function or team. They also produce numerous extracts of data, which are siloed—not connected to other areas of the business—and go quickly out of date.
In these scenarios, in addition to information silos, data is also vulnerable from a security and manageability perspective. Business data is often confidential. It can include salary, corporate budgets, sales commissions, and other confidential information. Storing and updating this information in disconnected spreadsheets and then sharing in emails or uploading into different systems presents a huge security risk. It also creates a burden on IT to provide governance and ongoing support, not to mention creating size limitations and staleness.
These kinds of limitations prevent the business from being agile because they simply cannot handle the complex dimensionality of business data. Any update or change in data has to be manually entered into separate systems, dumped into various spreadsheets and reviewed before it can be passed along or used. When business users start to have little or no confidence and trust in their planning data, that's going to affect the bottom line. When the CEO starts complaining, it becomes a big headache for the CIO.
Making it all worse, ERP dealers perpetuate the myth of low-cost or free add-on software—once they've sold you their service, there are all kinds of hidden costs. It would be easy to be convinced to purchase products and services that put your organization at risk, especially when it comes to cost and scalability.
All is not lost, there's a solution
Contrary to that, Anaplan's Connected Planning platform helps you meet these challenges head-on, delivering advanced planning technology across the entire business via the cloud. It works in conjunction with or can replace your ERP system. The Anaplan platform provides a robust system that is prepared for growth—with documented ROI—that can scale with your organization as it expands in size and market share. Anaplan connects financial, corporate, and operational planning, evolving them into dynamic models that allow you to respond to a change at a moment's notice.
Using the Anaplan system, planning becomes more collaborative and adaptable. Less time is spent untangling the mess of data, and more time is spent creating a future based on solid facts. This single Connected Planning platform can replace countless spreadsheets and point solutions, and encourages cross-functional aggregation of data, simplification of process, and even governance control.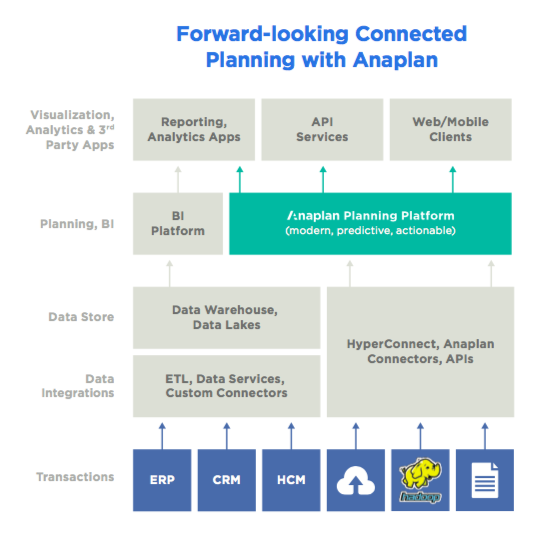 To learn more, download this paper and discover how Anaplan's connected planning platform empowers CIOs to become strategic business executives. A platform that eliminates disparate systems and processes unlike ERP, point solutions, and spreadsheet galore. Meet your enterprise-wide planning initiatives with ease.
| | |
| --- | --- |
| CIO's guide to becoming a strategic business executive | |