Feeling the cold, and the gratitude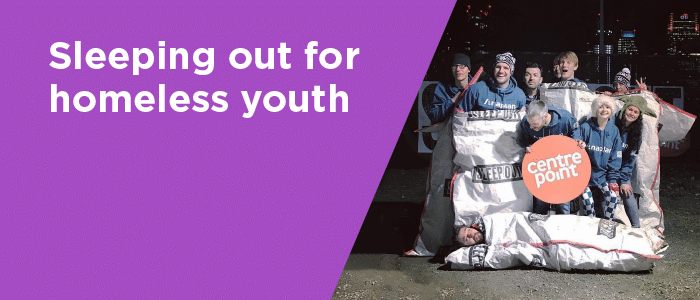 I awoke with one thought: cold. I was shivering severely despite the many layers of clothing I already had on. I clambered, in my small pile of possessions, to find anything extra that I could wear, only to find a single jumper was all the extra clothing that remained. I knew it would not do the job. After addressing my most immediate concern, the frigid cold, my brain began to wake up. I was beginning to regret agreeing to spend the night on a street in North Greenwich, London, but then I remembered why I did. Sleep Out.
Sleep Out is a programme in which volunteers swap their beds for sleeping bags for one night to raise money and awareness for homeless young people. I had agreed, with 10 of my Anaplan colleagues, to participate this year. The programme is run by Centrepoint, a UK charity that helps over 9,000 young people into housing and employment, and thus back into society, every year.
Centrepoint's work strives to help every individual get and stay healthy, as well as engage with education and vocational training to break the root causes and allow these men and women to pull themselves out of their homelessness
So on the evening of November 15, my colleagues and I made our way to an area near The O2 where the event would begin. Thermal underwear already on, sleeping bags and clothes slung over our shoulders, morale was high among the thousand-plus people gathered together. It felt like a festival, complete with great (and more importantly, hot) food, a stocked bar, and entertainment in the form of live music provided by the extremely talented young staff of Centrepoint. It was a wonderful start to the night.
But a few hours in, I was starting to feel disturbingly guilty. Shouldn't I be suffering by now, getting a feel for how tough it is to be homeless?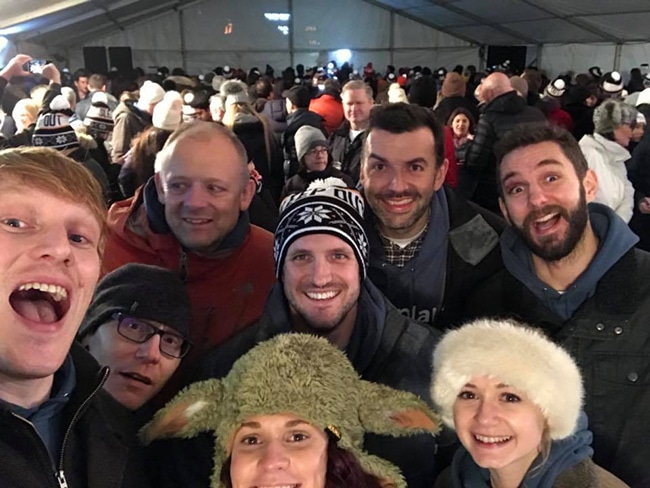 We were all smiles at the festival before the Sleep Out. The fun faded as the temperature dropped.
I needn't have worried. The temperature plunged as we neared curfew. Entertainment was stopped, the bar was shut down, and the lights were switched off. We made our way to our sleeping areas—large marquees overhead, thin sheets of cardboard separating us from the pavement. Things were getting interesting.
Later that night, temperatures dropped to around two degrees Celsius. The air was moist. We went from uncomfortable to freezing over a matter of hours.
The night's rest was brutally ended by harsh voices after around four hours of sleep. It was still dark and cold, but nonetheless it was morning. The sound of people struggling from sleeping bags was punctuated by the moans of those begging for more sleep, and the cursing of the cold. Perhaps this is what it's like for actual homeless young people to be shunted from place to place?
We were rescued from our misery by officers of the Royal Air Force bearing breakfast rolls and hot drinks. All of us quietly reflected on how we would feel right now without this morning luxury. A sustained combination of the elements and lack of support would have been unimaginably brutal, bringing on illness and, inevitably, tears.
Over the next few days, I was able to process from the warmth and comfort of my flat and our office. Was this a totally authentic experience? No. Was it a visceral insight into what it's like to be homeless? Yes. Do I feel renewed gratitude for what I have? Absolutely. Am I glad to have helped raise money to prevent others having to experience this in a far less controlled way? Definitely.
I was joined in the Sleep Out by my fellow London-office Anaplanners Matthew Antos-Lewis, Louise Archer, Stephen Brook, Dave Clarke, Camilla Edgerton, Angharad Kearle, Steve Lake, Boris Morris, Simon Richie, and Julian Small. If you're interested joining a team that does great work and does good for the community, check out Anaplan's Careers page.