Finance fuses with innovation at this year's Hub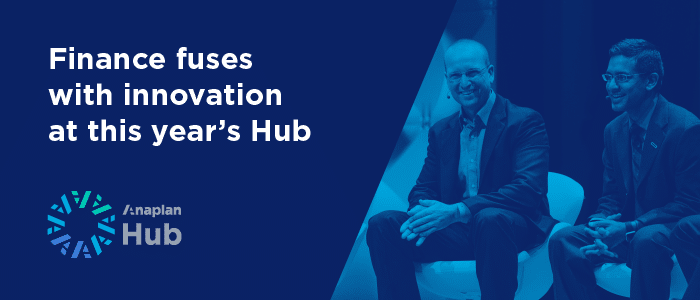 This year is my first time attending Hub 2018—Anaplan's annual connected planning conference—and, truthfully, I couldn't be more excited about taking it all in. Customers and industry partners from around the world will gather in Las Vegas to share best practices, strategic initiatives, tips and tricks in the use of technology, and guidance on maximizing the capabilities of their finance organizations within today's dynamic and evolving marketplaces.
In fact, here are just a handful of companies on deck to speak about their finance transformation journeys:
American Tire Distributors manages more than 140 tire distribution centers across the U.S. and Canada. Hear how, after just five months of using the Anaplan platform, they created a consolidated quarterly profit and loss forecast, as well as a full annual operating plan.
Israel Chemicals is a global manufacturer that generates more than $5 billion in annual revenue. Learn how the company implemented a driver-based, long-range plan for profit and loss, balance sheet, and cash flow projections, as well as detailed models for raw materials, sales volumes, currency, mergers and acquisitions, and capital expenditures.
Unum Group, a Fortune 500 insurance provider, recently replaced its legacy systems to accommodate market changes, increased competition, and new regulations. Hear how Unum drove improvements across its financial planning, management reporting, operational volume planning, and budget center reporting capabilities.
The University of St. Thomas, a higher education institution in Minnesota, is shifting toward a decentralized, incentive-based management structure. Learn how it is improving transparency and resource allocations and encouraging a more collaborative and entrepreneurial culture.
In addition to gleaning firsthand insights and best practices from our customers and partners, conference attendees can expect to experience hands-on training, in-depth educational sessions, one-on-one networking opportunities with their peers, and presentations on new Anaplan features and capabilities. Other key sessions will provide valuable insight into Anaplan capabilities, including:
FP&A trends and best practices
Modeling and reporting tips and tricks
New capabilities for regulatory and management reporting
Best practices in implementing rolling forecasts
For those of you who enjoy learning about the latest trends and capabilities in finance and Anaplan's connected planning technology, I encourage you to attend this year's conference. Learn more about Hub 2018 and its full agenda, dive deep into our finance track, and take advantage of our extended early-bird pricing.