Five reasons your best sales people are leaving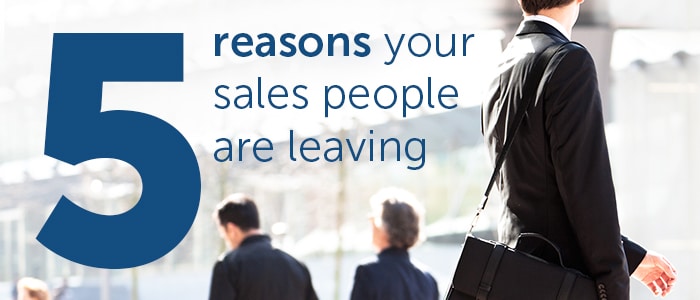 In the realm of enterprise sales organizations, the only thing more catastrophic than missing your numbers is watching your top contributors walk out the door. Not only have you missed the mark for the quarter, you'll have to make up for costly sales attrition by recruiting and re-training new reps. The possibility for redemption looks bleak. The pressure is on, so what will you do?
You'll do what any competent leader does to enable achievement. You need to address the core issue at hand: why are your best people leaving? Even in the best of times, sales reps flee in search of greener pastures. That's true at any organization, but it's not the top cited reason for voluntary turnover. Read on to learn the top five reasons your best sales people leave. Being aware will help you get ahead of the problem faster.
Over 400 sales executives were surveyed worldwide to gather insights on sales planning and impacts on rep productivity. This report, delivered by SiriusDecisions, reveals the top five cited reasons for voluntary sales turnover among other sales planning insights. According to the report, more than a third of the respondents indicated that it takes two to three months to replace a sales rep. Even worse, the cost of replacing a sales rep can quickly exceed expected sales expenses.
Based on the survey results, here are the five top reasons your sales people are leaving:
1. Confidence in offering portfolio
2. Quota assignments
3. Confidence in company stability
4. Confidence in sales leadership/management
5. Better opportunity
It's interesting to point out that quota allocation, not potential earnings, is increasingly cited as a primary reason why sales reps voluntarily leave organizations. So what to do next? Set up your sales reps for success from the get go with efficient planning. Remember that onboarding alone does not equate to rep productivity; you must take into consideration the time needed to reach productivity based on sales reps' tenure and account/territory assignments.
In order to retain your best sales people, keep these five reasons top of mind. Don't neglect the importance of data. Your sales organization's ability to collect valid data over multiple years is critical to sales planning analysis. This will help to improve your planning and execution.
What's your greatest challenge around sales rep attrition? Leave a comment below and let us know.