Five steps to start your supply chain transformation journey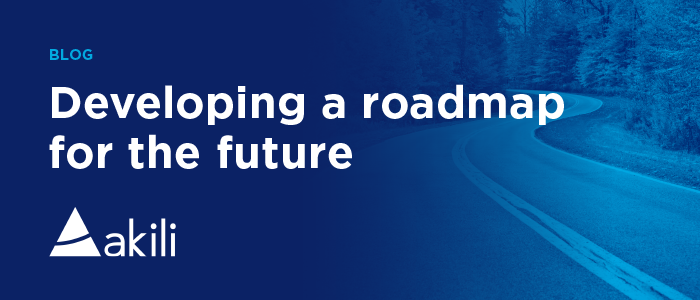 The supply chain transformation process is a discussion topic of ever-increasing importance for organizations of all sizes. Supply chain transformation can be considered an all-encompassing term that includes anything from process improvement to system architecture changes and upgrades that result in the ultimate goal of converting the supply chain from being purely a cost center to a profit or value center. This, in itself, can include strategic objectives like improved risk management, communication, and collaboration across functional silos as well as outside the organization walls with external trading partners, new evaluation and analysis of the organization, people, and metrics.
Developing a roadmap for supply chain transformation
In the context of Industry 4.0, all of these objectives have something in common: the need for digitalization and new technology to support various supply chain functions including, but certainly not limited to, material requirements planning (MRP) and master production scheduling (MPS), inventory and warehouse management, order automation, supplier relationship management, statistical forecasting, and a control tower to bring it all together and provide visibility across the network.
But before diving into technology vendor selections or even implementation itself, it is important for organizations to take into account some general considerations for developing a technological transformation roadmap and the implications for the organization.
1. Start on the right foot
Best-in-class supply chains do not execute or plan in functional silos, and organizations seeking to transform their supply chains should not plan a digital transformation in silos. One benefit of a successful supply chain transformation is cross-functional collaboration and improved communication, so organizations should start on the right foot with their transformation journey by selecting a supply chain transformation planning team that includes members from different departments and business units like finance, IT, HR, sales, and marketing, for example, to ensure maximum planning alignment.
2. Follow change management best practices
Digital transformation is an enterprise and network-wide change requiring adherence to change management best practices. After creating a transformation planning team made up of all the relevant stakeholders, following these five steps will help keep the transformation on pace and everyone on the same page throughout the process:
Prove a case for change: Work with stakeholders to align on the change vision and build the business case to gather support from executive leadership.
Commit to the vision: Develop strategic communication and messaging for the change vision with end-to-end alignment from executive leadership and all key stakeholders.
Construct a plan: A good plan includes several planning activities and deliverables including key performance indicators, a risk mitigation plan, milestone creation and timeframe identification, and definition of success metrics and training plans.
Execute tactfully: Use a RACI matrix to ensure adherence to the plan accompanied by regular "health checks" to monitor risks and complications.
Sustain and assure value: Continuous stakeholder and user check-ins, plus analyzing and evaluating success metrics and KPIs can help contribute positively to ongoing user adoption and continuous improvement efforts.
3. Analyze the current state and identify goals
When analyzing the current state of the supply chain, the APICS SCOR metrics are a great place to start. These metrics can be used to evaluate the enterprise as well as external partners. Additionally, they can be used to create quantifiable goals like improving days with sales outstanding, inventory turns, perfect order fulfillment, or cash-to-cash cycle time, for example. This analysis can also include answering questions regarding current and ideal state software and hardware systems, talent, processes, automation, data, trading partner relationships and end-to-end customer engagement.
Going through the process of evaluating the current state of the supply chain and identifying quantifiable goals and metrics for change is not only important for measuring the success of transformation efforts, but it will also help with software vendor selection. The results of this analysis can help organizations determine whether or not they should build technology infrastructure in-house or purchase from a third party, as well as determine implementation timeline requirements. For example, if the current-state analysis reveals urgent issues, there will be a need for a vendor that can implement a technology solution quickly, which will rule out vendors that require longer timelines.
4. Get your data ready
Poor master data is one of the most common underlying causes of implementation failure, so the importance of having clean master data cannot be overstated. It is not sufficient to know that the data needed to drive supply chain digitalization and automation efforts exists in some system somewhere within the network. Preparing for a digital transformation forces organizations to seek one source of truth and clean up master data. Having this done before implementation begins or working closely with the selected vendor(s) at the early stages of implementation is critical to success. Part of preparing is making sure the data collected adheres to a few guidelines:
It should enable the vision.
It should be stored in a manner that is easy to access and use.
It should enhance and properly contribute to the analytical capabilities needed and provide actionable insights.
It should be consistent across business units.
5. Be realistic
The "Amazon era" has ushered in a time of high customer expectations, leading to tremendous pressure on companies to maintain or achieve a competitive advantage, and the supply chain arguably feels that pressure more than any other business unit.
Although it may be tempting to develop a value chain transformation roadmap that incorporates all the latest Industry 4.0 technology, it is critical that organizations keep points 1-4 in mind and develop a roadmap with phases that align with strategic goals, organizational and process readiness and maturity, and the people, skills, and culture of the organization. This might mean developing a five- to ten-year plan instead of a two- to five-year plan, but setting realistic, enterprise-wide expectations, including continuous improvement efforts, is always a best practice.
| | |
| --- | --- |
| See how organizations are using Anaplan to support digital supply chain transformation | Learn More |