Four supplier relationship management mistakes and strategies to avoid them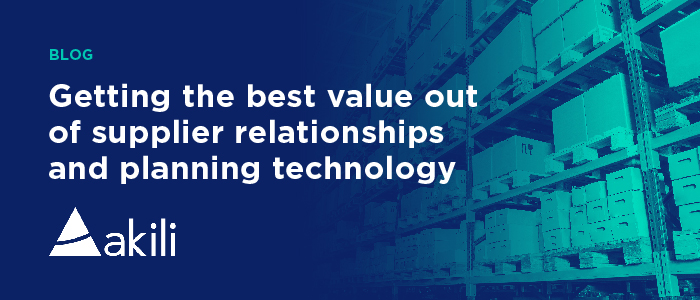 Effective supplier relationship management (SRM) has several benefits including lower costs, improved efficiency, consolidated supply chain, improved operations, and improved risk management. Like most elements of the supply chain, technological developments and globalization have made effective SRM both more complex and critical to operational excellence. Digitalizing the SRM functions of the supply chain as part of overall supply chain transformation efforts requires organizations to shift their perspective on strategic sourcing and supplier collaboration, including changes in workflows and processes, as well as implementing new technologies to support those processes.
What Are Four SRM Mistakes to Avoid?
Whether you have already started your digital transformation journey, are in the initial planning phases, or are measuring against continuous improvement metrics, avoiding these SRM mistakes will help ensure that you focus on the best activities and most meaningful metrics to extract value out of your supplier relationships and planning technologies.
1. Not segmenting suppliers
As supply chains become more complex, the simplicity of the "make vs. buy" decision no longer applies, and one size does not fit all when it comes to effective SRM and sourcing models. Just as customers and SKUs are segmented as part of a robust supply chain strategy, suppliers should be also. Using the sourcing continuum to place suppliers into transactional, relational, and investment categories can provide a way for organizations to quickly analyze where their suppliers fall on the contract-to-strategic relationship scale.
Failing to segment suppliers across the sourcing continuum can lead to missed value-realization opportunities by leveraging joint investments with strategic suppliers. Or, on the other hand, it can be detrimental to place too much emphasis on relationships with transactional suppliers.
2. Not choosing the customer-focused approach
There are two basic approaches to a supply sourcing strategy:
Supplier forward: Choosing a supplier and using the supplier's capabilities to determine how well to meet customer needs.
Customer-focused approach: Assessing customer supply chain needs and selecting suppliers to support those requirements.
Most supply chain strategies use the first approach, developing a strategy that employs best practices from supplier to customer, rather than concentrating on how best to satisfy customer needs and working back to the vendor. Not making customer needs a priority is risky, as organizations either fail to meet requirements altogether, or prioritize supposed best practices so highly that they over-engineer processes and technology, wasting resources on non-value-adding activities.
Starting with the customer gives clear direction and insight into what the organization must do to satisfy their needs. This provides pertinent information to the organization that can be shared with strategic suppliers for continuous improvement efforts and can be used internally to drive selection for new suppliers. Organizations should choose strategic suppliers that can be flexible and adaptable as customer needs change while also balancing the need to achieve desired levels of cost and working capital. It may sound like an unrealistic goal, but best-in-class enterprises have demonstrated that a blended customer focus—a supplier-forward approach—is not only possible, but mutually beneficial to all parties involved.
3. Focusing too heavily on cost
Making cost the most important metric on the supplier scorecard is one of the easiest ways to create an adversarial relationship. This can often lead to manipulation instead of collaboration for existing suppliers or choosing new suppliers that do not fit into the overall strategic sourcing strategy. Organizations that choose suppliers primarily on the basis of cost often times find themselves spending more than budgeted due to rework, delays, and other issues.
Partnerships with strategic suppliers should focus primarily on the total value added to the supply chain network and customer satisfaction, with cost being only one point of many evaluation metrics on the overall scorecard. When developing supply chain and SRM strategies, it is important to remember that the ultimate goal is serving the customer, not only cost reduction and minimization.
4. Not providing a seat at the table for investment suppliers
Best-in-class supply chains have proven that clear, open communication and active collaborative relationships with strategic partners that go beyond transaction management have a positive effect on customer satisfaction. Moreover, they help to lower both costs and risks. Despite these benefits, many organizations forget to provide a seat at the table for their most strategic suppliers when it comes to supply chain transformation, focusing solely on collaboration within the enterprise. When organizations do not consider how new technology will affect workflows that extend beyond the enterprise, it can negatively impact digitalization efforts and end-user adoption.
How cloud-based Connected Planning can play a vital role in SRM
A cloud-based Connected Planning platform can play a vital role in supplier relationship management strategies by enabling collaborative goal-setting and decision-making. Supplier relationship management strategies are providing more visibility across the extended supply chain in order to create transparent, shared views of data leading to mutually beneficial relationships and replacing the "us versus them" mentality. Organizations can leverage Connected Planning technology to improve workflows to manage onboarding and approvals for new suppliers, while using data from both internal ERP, or other purchase order management software, and external partner systems to monitor supplier performance and create custom supplier scorecards.
Avoiding common SRM mistakes can not only contribute to a successful end-to-end supply chain digital transformation, but it can also help to build overall stronger, longer-lasting supplier relationships due to better planning and more frequent communication.
See how customers are using the Anaplan Connected Planning platform to support strategic SRM and sourcing.