From traditional planning comes Connected Planning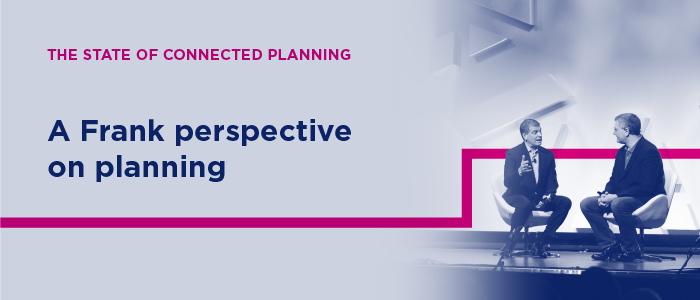 As business leaders, we make decisions every day. Up until now, we've been making them with tools that are nearly 40 years old, such as spreadsheets or very expensive legacy products. Making decisions with these traditional planning tools is far from simple and the right choices aren't always easy to discern. Good or bad, those decisions can have lasting effects over the days, months, and years ahead.
We can all agree that planning is important: Change, transformation, and disruption are the new normal for businesses, and information to make timely decisions is needed now more than ever. These urgent realities drive businesses to recognize the value and insight that Connected Planning provides over traditional planning.
From outdated to actionable—in real time
Business planning environments require increasingly more continuous, intertwined, and interdependent processes. Our state-of-planning research shows that 74 percent of companies are planning more frequently than they were five years ago. Even as companies are planning more, only 15 percent of businesses are able to execute on all of their plans.
Further, nearly three-fourths of companies report that they currently take weeks or months to incorporate market changes. We see many companies, particularly those using conventional planning tools, spend so much time trying to get their plans right that they become outdated before they can even be executed. It is this inefficient planning affecting the ability of today's leaders to make decisions that improve and sustain short- and long-term business performance.
There's a better way to plan
So, how can businesses improve planning and make better decisions? First, imagine how a large company makes decisions. These organizations have a lot of data, plans, and people. Pulling together the right information and the right people for perceptive decision-making can quickly become very complex. From an overall strategy to long-term planning, decision-making in organizations involves many different business, functional, and financial aspects.
Accommodating cross-functional processes, high volumes of data, and engagement of multiple teams with traditional planning methods is too slow, complex, and costly—it simply becomes overwhelming.
To be successful, we need to approach planning differently. We need to get the right data and the right perspectives about that data. This is why Connected Planning technology is such a valuable opportunity; it brings together siloed parts of organizations to integrate data, people, and plans across their enterprise for better, more informed decision-making.
Our State of Connected Planning research is encouraging: We found that 92 percent of companies believe that better planning technology produces better business outcomes. Technology gives us an ability to reduce the complexity of our data and can empower us to make intuitive, strategic, and impactful decisions within dynamic business environments—agility that is nearly impossible to achieve through conventional planning.
As business leaders, we face a big opportunity: We can reinvent ourselves and evolve as individuals and for our companies. We can do things differently. Exciting times for the business world are ahead; from traditional planning comes Connected Planning—a dynamic, intelligent, and collaborative approach that gives businesses a new way to re-imagine the planning process and make better decisions faster.