The future of retail is now: as seen at NRF 2018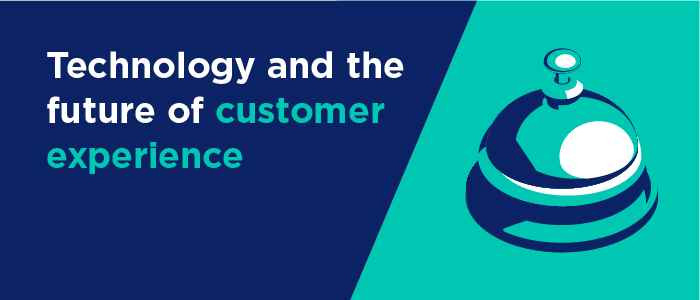 You walk into your favorite neighborhood grocery store and grab a cart. A camera built into that cart watches the shelves as you walk the aisles. It notes where stock is low and sends that information to a system that reassigns idle cashiers to restock. Sound futuristic? It's happening today. Technology's influence on the customer experience revolution was a main theme of NRF 2018: Retail's Big Show. Here are a few of my largest takeaways from the conference and how organizations can begin (or continue) to insert technology into their strategies for a great customer experience.
Rising to meet consumer expectations
Consumers are more empowered and have more choices than ever before. Technology has made "buy anywhere, deliver anywhere" possible and now all retailers must meet this standard.
David Krebs from VDC Research shared the powerful reminder that the successful omnichannel customer becomes your most profitable customer. When a retailer meets omnichannel expectations, such as easy mobile ordering or ship-to-store capabilities, the consumer is likely to spend more. Making sure that the supply chain is ready to deliver on omnichannel demands is more important than ever before.
Jennifer Sherman from Kibo reminded the audience at NRF that to get omnichannel fulfillment right, you must master three elements: store integration, inventory, and store fulfillment. These three elements are key because there are so many moving parts involved in getting the right inventory to the right store at the right time. Supply chains must be ready to quickly pivot strategy to make inventory available when and where it's needed. To achieve this, warehouses and stores must be seamlessly integrated and ready to fulfil orders.
Another key expectation from today's shopper is a smooth return process. Tobin Moore from Optoro shared this striking statistic: If a consumer is happy with the way their return process was handled, they're 71 percent more likely to become a return customer. Re-engineering supply chains to handle the return process and investing in technology like reverse logistics platforms can make returns much smoother.
The experience matters more than ever
The shopping experience is another area where technology is transforming retail. Oisin Hanrahan, CEO of Handy, said this at NRF: "People are talking about the experiences they have, not the products they buy." With so many competitors in the marketplace, what drives us to choose one store over the other? More than ever, it's the one with the better experience. And for most stores, that experience is driven by cutting-edge technology and paired with quality customer service. That combination creates loyalty.
With a seamless experience across all channels, from websites to mobile apps to the brick-and-mortar store, the retailer that ties it all together is most likely to build a base of loyal customers. The supply chain needs to be ready to keep up with this demanding consumer experience through well-managed inventory and an efficient fulfillment process.
Retail has come a long way in a few years. (It was only 1998 that online shopping was considered "newfangled.") If it's come this far in two decades, the future is bright for retailers and consumers alike.
For more on how to ready your supply chain for the future of retail, read our whitepaper, "Five strategies for retail planning success."
| | | |
| --- | --- | --- |
| | Five Strategies for Retail Planning Success | |