Get prepared for the future of supply chain at Anaplan Hub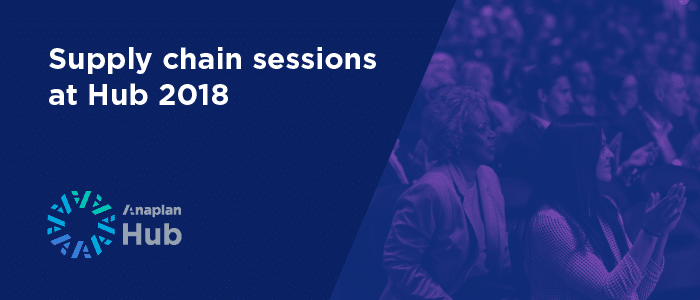 Supply chains are evolving on a daily basis. Rising consumer expectations demand a new model for retail supply chains. Artificial intelligence and machine learning have a huge potential for influence. Digitization is becoming the new normal, and technologies like autonomous vehicles and cryptocurrency are affecting how supply chains operate. How can supply chain professionals keep up with these trends? I think the best way is to learn from each other.
Every year at Anaplan Hub, leaders and practitioners from the world's top companies gather to network with peers and experts, share best practices, get hands-on training, and hear about new features and capabilities coming in the Anaplan platform. It will be an inspirational three days for supply chain professionals.
Here are a few of the sessions I'm most excited about.
Coca-Cola North America is embarking on one of the most challenging and complex transformations ever: refranchising its bottling system. To make this major go-to-market change successful, the forecasting team needed effective collaboration, both internally with various cross-functional teams and externally with bottlers and customers. In one session, you'll learn how Coke's core forecasting team is addressing this massive challenge by bringing clarity and transparency to forecasting with the Anaplan platform.
Walmart eCommerce has more than 70 million SKUs in its online marketplace, and the company's recent growth created significant scalability and flexibility challenges. The team will share how the Anaplan platform enabled them to scale open-to-buy inventory planning across more than 600 categories while driving greater collaboration with partners.
Sonos leads the way with innovative smart speakers and home sound systems. Over the last two years, the company has revolutionized its supply chain planning processes with the Anaplan platform and has broken down traditional barriers between demand and supply planning. In a session titled "Demand Meets Supply in Real Time," you'll hear from the team responsible for this transformational project.
In addition to the breakout sessions presented by our customers, Anaplan product experts will share insights related to trending topics and Anaplan features. Here are a few examples:
"Flexible Optimization: The New Paradigm." Complex supply chain optimization is notoriously difficult to achieve at scale. Constant adjustment and reconfiguration to meet constraints and market needs are necessary. But there's good news! What was once painful and time-consuming is now possible with the Anaplan platform's flexible optimization capability. In this session, learn how optimization has driven success and excitement for some of the most advanced supply chains in the world.
"The Future of Decision-Making: Machine Learning and the Connected Supply Chain." Historically, the inability to consolidate, manipulate, and augment data quickly and at scale has made supply chain planning and decision-making very difficult. This has left even the most mature and talent-rich organizations scrambling for insights that can drive action. In this session, Anaplan experts will explore how insights gained through machine learning can drive better decisions and high-value activities.
I hope this preview of the supply chain track has you ready to hear more. If you're ready to connect with and learn from supply chain experts and peers alike, join us at Hub 2018. I hope to see you there.