Hackathon highlights from Anaplan Hub 2018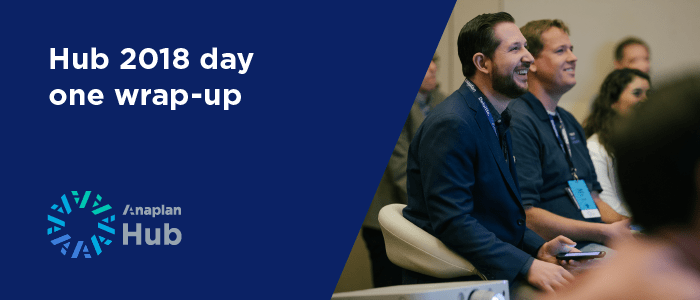 For years, high-wire acts have been part of the Las Vegas scene. At the first day of Anaplan Hub in Las Vegas, Chris Mullen, Head of Global Training in the Anaplan Academy, hosted a high-wire act of his own: our annual hackathon.
Why is the Anaplan hackathon like a high-wire act? Because the thrill of success is always shadowed by the opportunity for a massive misstep. We're happy to report that none of this year's hackathon participants took a spectacular tumble, but they did create some wonderful, creative ways to use the Anaplan platform.
The hackathon worked like this: At 8:00 a.m. on Monday, more than two dozen participants-most of whom are advanced Anaplan users-were broken into teams of three people and asked to create a brand-new Anaplan model from scratch, on the spot. To encourage spontaneity, collaboration, and connection, all of the members of a team had to be from different companies. The teams were given three ingredients that their hackathon models had to include: a user list, a button to add or delete an item, and a waterfall chart. Beyond that, the teams could create anything they wanted, as long as they were finished by 3:00 p.m.
Hub's Las Vegas setting clearly had an effect on the models created. Two teams built models related to sports betting; one optimized an NBA Fantasy team, and the other was a sports book that friends could use to bet against each other. (That team bravely opened their model to everyone in the room in real time during the judging to place bets.) Two teams built party-planning apps, one of which gathered responses from friends for a trip to Vegas (including dining, hotel, and entertainment options), and the other matched clowns to parties based on kids' preferred activities and the clowns' availability. Several teams created apps related to hotel and casino management, and one team created a model that used a waterfall chart to visualize the musical jumps (called intervals) in popular songs. That team announced that Phil Collins' six-note singing range was no match for Alicia Keys' three-and-a-half octave range.
The work stopped and the judging started at 3:00 p.m. sharp. Each team described-and in some cases, acted out-its model in a five-minute presentation to three judges: Tyler Snellings, who won Master Anaplanner of the Year at last year's Hub; Chris Weiss, of Accenture; and Vicky Ascensio, Anaplan's Associate Director of Customer Success. The judges measured the entries against a handful of criteria, including use of the required ingredients, the look and feel of the dashboards, and the clarity of the process behind the model.
The winning team consisted of Diana Xu of Equifax, Guillaume Deson of Legalzoom, and Edwina Tran of Salesforce.org. Their model, called "Gotham City Hotel Management," was built to help a hotel-casino manage both new and existing customers. It included a customer-facing dashboard where hotel guests could enter information about their hotel stays (dates, room types, number of guests, and so on), book entertainment, and track gaming activity; and a management dashboard where the hotel staff could aggregate and track customers' activities and-importantly-profitability.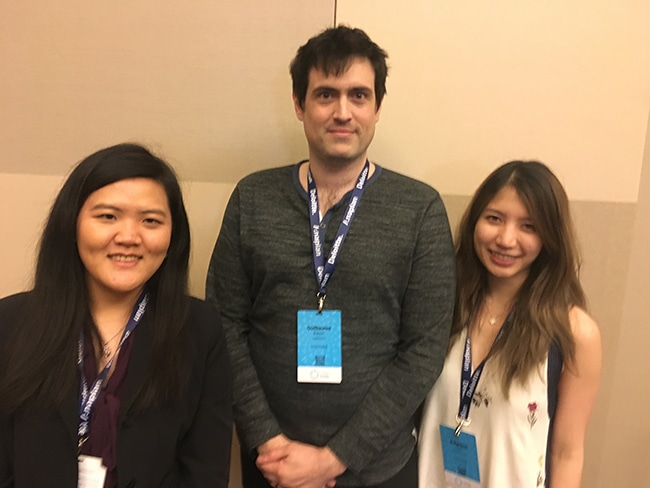 Winners of the Anaplan Hub 2018 hackathon are, from left, Diana Xu, Guillaume Deson, and Edwina Tran. They each took home a Sonos speaker as a prize.
The judges were particularly impressed by the model's "blacklist" function, which showed which customers cost the hotel more than they brought in. "Edwina has a finance background, and her insight into how companies look at cost was really helpful," Diana said in explaining the team's model. "And Guillaume brought the customer's point of view – the dashboard would help people see when they might want to spend more time in the spa than in the casino."
Why did they choose to name their model after Batman's hometown? "We started with our user list, which was mostly superhero names," Edwina explained with a laugh. "The Gotham City theme grew out of that."
"I loved the creativity of our teams at this year's hackathon," Chris said after the event. "It's always fun to see what people do when they're thrown together under time pressure to solve a problem. It's a big risk and they crushed it."
To engage with folks from the hackathon and other Anaplanners, join the conversation on the Anaplan Community.
Over the coming days and weeks, we'll share more stories from Hub on the Anaplan blog. Be sure to check back often to see some of the other stories.