Hit your targets every time: Make your sales KPIs work for you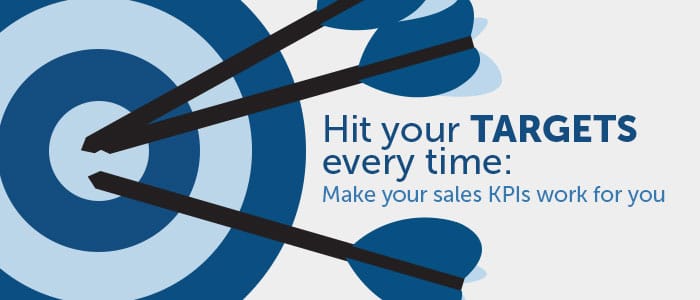 Declining sales productivity meets increasingly aggressive sales targets. Sounds like your everyday walk-in-the-park, doesn't it?
If you're thinking about going public, or aiming to blow your targets out of the water, there are specific sales key performance indicators (KPIs) that you must measure and manage on an ongoing basis. These KPIs revolve around your sales pipeline and activities that support the pipeline. In order to drive a successful sales organization, upkeep of the following KPIs is critical.
Coverage, velocity, and conversion
From a pipeline perspective, you must have a certain ratio of coverage in your pipeline to your targets. You need to have good velocity and conversion. There are two key metrics to look at for each salesperson. 1.) How well do they convert a new opportunity to a close? And 2.) How fast can they take that new opportunity in the pipeline through the cycle to a closed piece of business? A salesperson that takes a lot longer to complete negotiations with a prospect provides you with valuable insight. You can use this information to identify and coach under-performing sales people to be more successful.
Leveraging best performance metrics as benchmarks
Some worldwide sales leaders study their team's historical performance metrics as KPIs to benchmark against. What are the high value activities that these top performers do consistently that we can then set as KPIs? These activity KPIs involve any type of touch point throughout the deal, such as frequency and type of meeting with partners, new customers, or the C-Suite, or the number of emails they send per day in their prospecting activities. We collect these metrics as we study top performers and then we can track these activities in Salesforce, which is our CRM system. This helps to give folks not only a way to self-manage but gives our management team a way to incorporate this data into our own sales forecasts to ensure we're on track to hit our targets.
Activities are the "holy grail" of sales KPIs
Activities as a KPI are the holy grail of sales performance metrics. You want to be able to measure everything, in particular every touch that our sales people make with each prospect. However, sales leaders have a hard time instilling the discipline in their teams to record all of their activities. It requires a salesperson to go in and manually log their daily activities into the CRM. That's a muscle memory type of thing and it's hard to make it a habit. But if you make it visible, by creating a shared leaderboard, you can make it competitive. That's a great way to reinforce not only the importance of logging their activities, but also that there is a competition. This encourages your sales team to log their activities. Without logged activities, tracking against sales KPIs becomes impossible.
By measuring and managing these sales KPIs on an ongoing basis, you will achieve better visibility into your sales team's performance. Equally important, you must access these KPIs in real-time to make better-informed decisions around the data. Your KPIs won't mean much if you're looking at week-old data.
Make real-time decisions with your sales KPIs
Using our platform, I am able to integrate my sales KPIs with our Salesforce data and create a real-time pipeline dashboard. I can see pipeline and activities by rep or by region. This makes it easy to understand our current velocity and likely conversion rates. This also helps to drive sales productivity and effectiveness by aligning all moving parts of our processes, rep coverage, quota, etc. As a leader, I can optimize my sales plan against real-time insights into sales performance. The holy grail of KPIs is always within my reach.
Make your sales KPIs work for you by getting ahead of your data. Download this report from Harvard Business Analytics Services to discover more about the new science of sales performance. You'll learn new insights on how data is spreading to enterprise sales organizations.