How the deal desk can help manage complex deals and maximize efficiency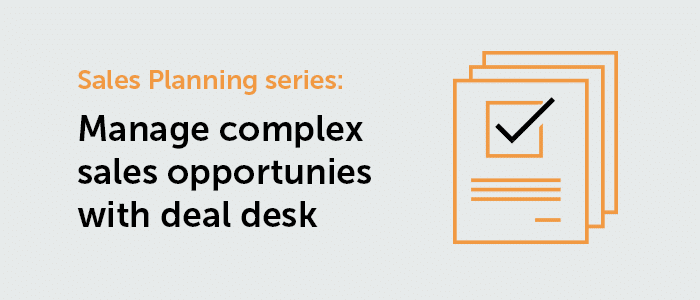 In this five-part blog series, we discuss how to enhance the end-to-end sales planning process, including account segmentation and scoring, territory and quota, incentive compensation, sales forecasting, and deal desk. In this, the last blog of the series, we discuss the importance of having an effective deal desk function.
The B2B sales market is becoming more complex and competitive with each passing year, and the rising popularity of deal desks reflects the heightened stakes. More sales teams are implementing an in-house deal desk process to help evaluate, customize, and finalize each sales deal before closing. The role of the deal desk is to help handle high-touch deals, improve sales efficiency and effectiveness, and gain buy-in from various stakeholders throughout the deal process. According to statistics from PwC, deal desks can reduce sales cycle times by 25–40 percent, enhance sales productivity by 15–20 percent, and increase corporate profitability by 5–10 percent.
"More companies are looking to a deals desk function to maintain market competitiveness while managing risk and positively impacting the top and bottom line. Deals desks play a critical role in large, strategic opportunities that are typically complex and high-value."

– PwC "Deals Desk—a key business enabler to meet customer demands"
If your organization is looking to add a deal desk function or enhance the work of your existing deal desk, here are a few key points to ensure that your entire sales team is getting the most out of your deal desk on every sale:
Standardize customer quotes
One challenge for many B2B sales teams is that the sheer complexity of high-value deals can be overwhelming. With multiple sales reps working with multiple customers, companies run a higher risk of quoting the wrong price or offering the wrong discount to a particular customer, compromising the overall profitability of the deal and the business. With a deal desk, you can keep a closer eye on the pricing and discounting of these opportunities and ensure consistency in the offerings to maintain profitability—all while keeping customers happy.
Get faster workflow approval
A good deal desk function helps your sales reps get much-needed visibility into the deal approval process at every stage of the sales cycle. Instead of sitting on stalled deals, your deal desk should help speed up the sales pipeline. Every complex sale has numerous moving parts and stakeholders who need to be involved in approving the various elements (pricing, features, customized options, etc.), and each of these approvals needs to run smoothly and in a standardized and predictable manner.
Integrate the deal desk with broader business goals
Ideally, your deal desk should serve as a "home base" for your sales team in a way that helps your sales leaders keep the team on track for big-picture business goals and sales KPIs. For example, the best-performing deal desk functions tend to help the company achieve key business insights from sales analytics and create metrics for service-level expectations that help facilitate more profitable and longer-lasting customer relationships. A deal desk should not just help get individual deals closed—it should also serve as a catalyst for the ongoing growth and efficiency of the entire sales organization.
Many sales organizations are still discovering exactly how to use the deal desk function to their best advantage. As the complexity of sales deals continues to increase, the opportunities to maximize sales efficiency will also increase. With a smart strategy and consistent deal desk practices in place, your company can maximize the value of its sales analytics, maintain profitable pricing, and handle customized features and high-touch deals of any magnitude.
Learn how a deal desk function can help your sales revenue. Watch our three-minute deal desk demo to see how leading organizations are selling smarter with Anaplan's Deal Desk solution.
Read our previous blogs in this five-part series, which presents a comprehensive approach to sales forecasting. And check back for our final blog, which will recap each of the topics covered in the series.