How to use Connected Planning technology to maximize Salesforce data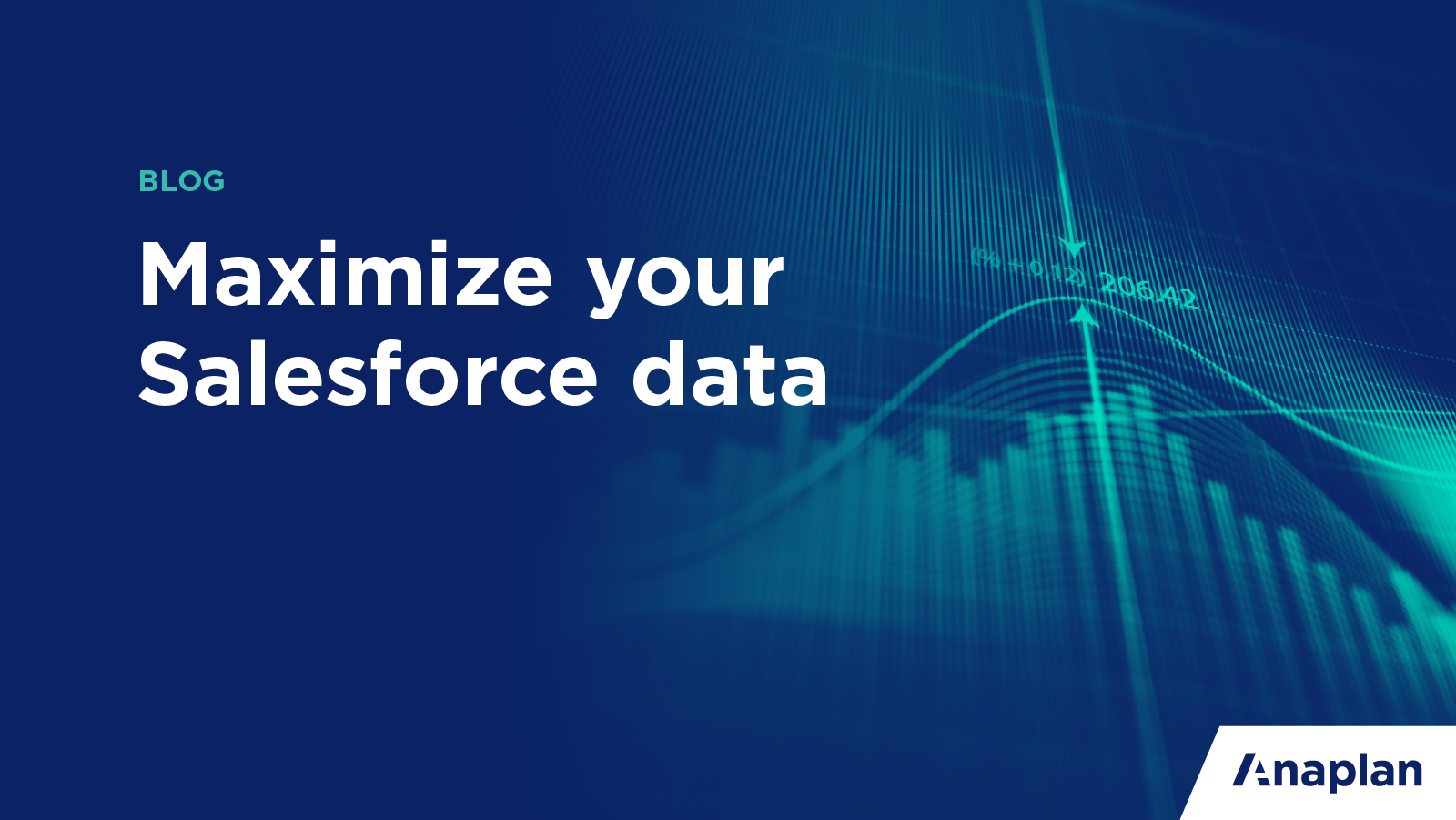 An operational powerhouse in sales, marketing, quote-to-cash, and client support, Salesforce is widely accepted as a best-of-breed customer relationship management (CRM) platform. Used to accelerate business growth, its solution allows businesses to efficiently record activities and manage any and all necessary steps to advance leads, opportunities, quotes, and use cases in a seamless and connected fashion.
The benefits of Salesforce don't stop there. Businesses using the solution are privy to another opportunity: gleaning value from the rich operational data to help shape and influence business plans. At Spaulding Ridge, this is a frequent opportunity that we counsel many of our clients on to help identify business opportunities, improve and streamline processes, and transform their business operations.
Without the right technology, leveraging operational data within the planning process can feel slow, fragmented, and overwhelming to accomplish. With the right technology, such as a Connected Planning platform, it can unlock deeper insights into data and enable real-time, agile decision-making.
Here are just a couple of examples of how Spaulding Ridge uses Anaplan's Connected Planning platform and its sales performance management capabilities to uncover insightful trends from Salesforce data.
What Salesforce data can reveal about sales forecasting
Analyzing Salesforce opportunities is a great way to understand historical sales cycle trends over time and better understand your future sales forecast. Within the Anaplan platform, this is easy to do by viewing snapshots that track changes and allow you to understand the velocity of your pipeline.
At a micro level, this history might reveal that one of your account executives is regularly pushing deals to the next fiscal period and consistently assigning unambitious close dates to avoid scrutiny by sales leadership. Sales leadership can easily track those close dates and adjust the details to show more accurate close dates and manage a tighter forecast.
At a macro level, sales leadership might see that although the intended average sales cycle length between Stage 2 (Discovery Call) to Stage 3 (Demo) is one week, a specific territory spends two weeks between Stage 2 and 3 on average. Leadership can perform "what-if" analysis to understand the impact on next fiscal quarter's revenue if all opportunity cycles within that region were shortened by one week. As a result, this data could encourage decision-makers to invest in more presales support for that region.
Improving deal management, profitability, and delivering quotes faster
Salesforce Configure, Price, Quote (CPQ) has quickly gained a reputation as one of the easiest solutions to deploy on top of a Salesforce instance. By leveraging Anaplan's Connected Planning platform on top of live quote data in Salesforce CPQ, you can measure profitability on a deal-by-deal basis, on the fly. Interested in monitoring your historic volumes, discount behavior, and optimal configurations to close your deal instantly? Leveraging Connected Planning technology, Salesforce CPQ users can analyze trends and apply insights to shape current and future deals that improve your bottom line.
At a micro level, a Connected Planning platform can operate like a more traditional deal desk by looking at individual deals to assess profitability. In addition, the snapshots and trending functionality allow the deal desk to dig deeper and understand more granular reports, including but not limited to: historical averages by product and quantity, historical probability to close based on discount percentage, and average margin within business segmentations.
At a macro level, leadership can roll up all quotes over time to understand the price elasticity of their products. For example, if one region is selling a product at an average discount of 10 percent with a close rate of 70 percent, and another region is selling the same product at an average discount of only 5 percent with a 71 percent close rate, leadership is able to conclude that a 10 percent discount does not yield incremental profit. They are also able to understand the potential bottom line gain of retaining that 5 percent to plowback into their margins.
Navigating through challenging and critical business decisions
These are just two of many examples of how you can leverage cloud-based, Connected Planning technology to uncover trends in live Salesforce data to enable your organization to execute on proactive—not reactive—business decisions. In a business landscape where the only guarantee is uncertainty, connected business planning is truly the key to staying ahead of the curve. To learn more about how Spaulding Ridge is helping leading companies define strategic plans, develop growth strategies, and unlock innovation through cloud investment, visit the Spaulding Ridge website.
Learn how high performing organizations are unlocking the power of data in sales