Implement safer banking compensation practices with Anaplan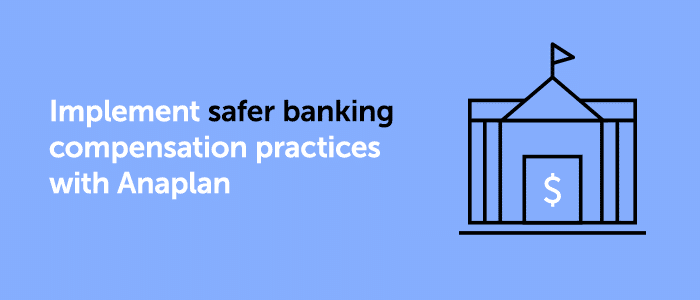 The post-financial crisis period has been challenging for many large banks, and yet banking executives and other senior-level material risk-takers continue to receive what some consider outrageous compensation packages, drawing sharp criticism from regulators and the media. As a result, in the past few years, compensation practices in the banking world have been under a regulatory microscope.
More recently, we've seen banks heavily fined for dubious sales practices that have resulted from compensation plans that motivated questionable sales behaviors across thousands of employees. The result for the bank is not only regulatory fines, but a lack of trust with regulators and consumers alike, and banking leaders across the industry are likely taking a closer look at their compensation practices to avoid a similar situation and resulting fallout.
However, the large size of globally systemic banks and the complexity of their compensation models are challenges in and of themselves, and require a scalable, flexible, and collaborative solution in order to gain a high degree of oversight and transparency into the resulting sales behaviors that compensations drive.
The Anaplan planning and performance management platform can provide just that: The cloud-based technology allows sales, HR, finance, compliance, and internal audit teams to collaborate on sales forecasts, targets, quotas, and incentives in real time on a single platform. This can enable cross-departmental oversight and transparency into compensation practices, and help protect banks against legal sanctions and reputational risks.
Using Anaplan, the incentives calculated and paid to thousands of sales employees can be constantly matched with quota attainment, underlying sales objectives, and KPIs. Anaplan manages thresholds and can provide a real-time, comprehensive view of sales KPIs, quotas, and incentives across all regions and aggregated at all levels of the organization.
The rewards team can also use Anaplan to model out and plan compensation packages for tens of thousands of employees, manage sets of rules to calculate the bonus deferrals and payout schemes for various categories of employees, and model countless "what-if" scenarios. Coupled to workflow and audit trail functionalities, the Anaplan platform provides transparency to the data and the calculations, resulting in increased trust and streamlined regulatory audits.
For more information, watch a three-minute demo of Anaplan's incentive compensation management features and check out our app for compensation modeling and forecasting for banking.